Exhilarating UK Ziplining experiences
Hangloose Adventure is home to some of the best zip lining experiences in the UK. Whether you are looking for speed or distance, we've got you covered!
Visiting the South West? Soar above the Eden Project Biomes on England's fastest zip wire, travelling at speeds of up to 60mph.  Alternatively, our South East site is home to England's longest zipline, located within the majestic Bluewater cliffs.  Choose your location as it's time to take flight head first in our superman position reach up to speeds over 50mph. 
Minimum Weight: 35kg / 5 STONE 7LB
 Maximum Weight: 120kg / 18 STONE 12LB
Please Note: The Minimum and Maximum weight can be raised at any time for safety reasons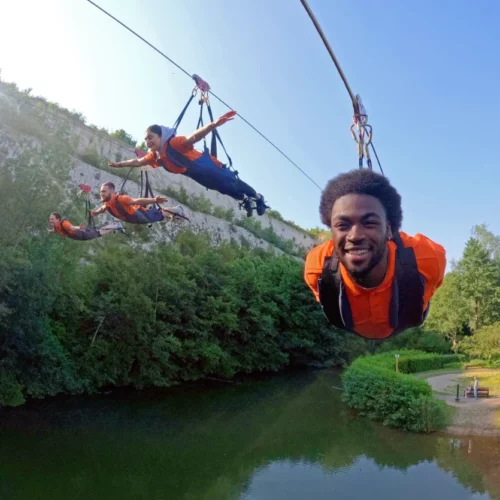 Hangloose Bluewater's Skywire holds the medal for being England's longest zipwire, spanning over 700 metres in length!
This extraordinary zip wire experience sets itself apart by offering the unique opportunity to soar in our signature superman position. As you glide down the Bluewater zipwire headfirst, brace yourself for an adrenaline-pumping rush, reaching exhilarating speeds of over 50mph.
Whether you embark on this adventure solo or with friends and family, nothing will stand in the way of excitement – we have four lines ready for you to begin your zipline experience! You can find us at Bluewater Shopping Centre, Kent.
Hangloose Adventure Bluewater, The Domes, Bluewater Parkway, Bluewater, Greenhithe, Kent DA9 9SW
Free Car Park: Lower Plaza Car Park (Bluewater Pkwy, Dartford, Greenhithe DA9 9SJ)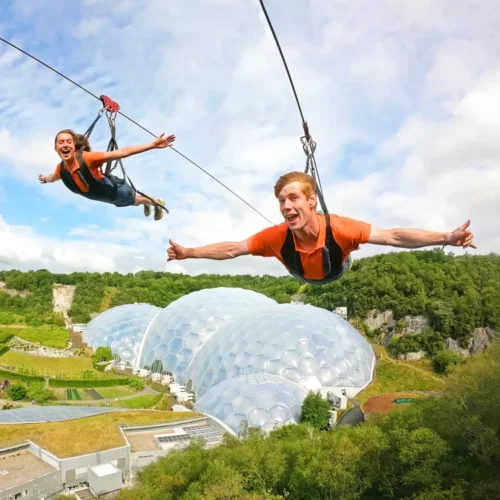 Hangloose Adventure Eden boasts the title of hosting England's Fastest zipwire
positioning it as one of Cornwall's finest activity experiences.
For adrenaline junkies seeking a thrill, our zipline offers an exhilarating ride, propelling you at speeds of up to 60 mph as you glide over the breathtaking Eden Biomes. With two parallel high wires available, you have the option to share this incredible ziplining experience adventure with your friends or take on an exclusive solo flight – either way, unforgettable memories await you on our Cornwall zipwire! You can find us at the Eden Project. 
Hangloose Adventure Eden, Eden Project, Bodelva, Par PL24 2SG
Free Car Park: Once on site please use Eden Project car parks as normal, and follow signs for Hangloose from the visitor centre.
Available at both breathtaking locations
Capture your skywire experience
We understand that you'll be eager to share the thrill of our zipline park and we have the perfect solution!

Purchase a Skywire digital media and video at the checkout pack to capture every moment of excitement during your unforgettable zip wiring adventure.

Your digital download will include 3 images and a video compilation of your flight. Our head cams will capture your expression from start to finish.
 
Our media packs are available to purchase on the day, for those last minute decision makers. Alternatively, contact our Customer Service Team, quoting your order number for them to add this on prior to your visit.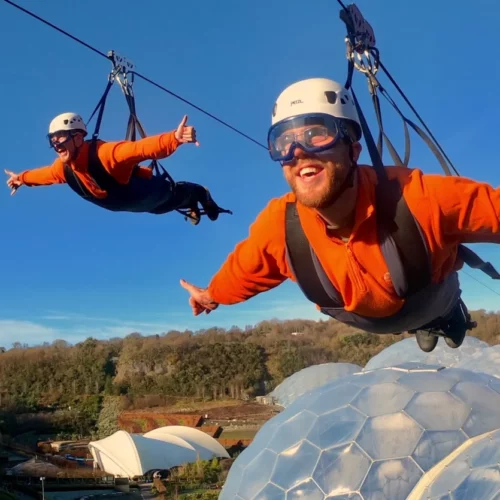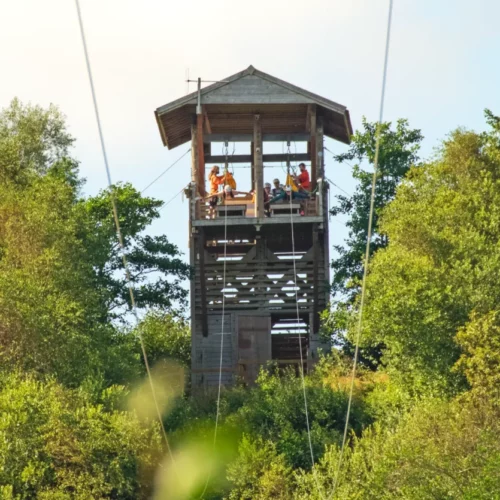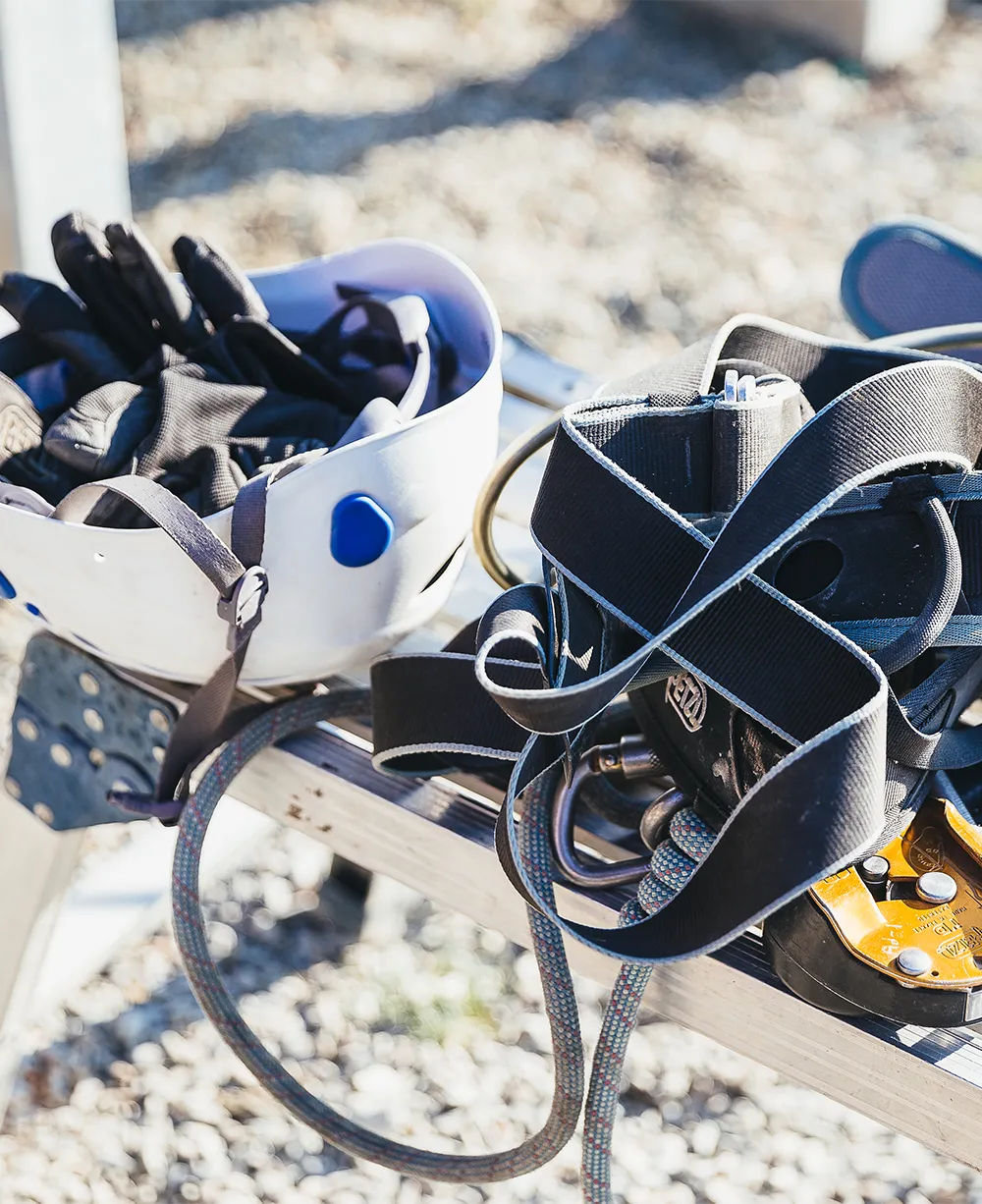 All participants need to ensure they dress appropriately and wear suitable clothing according to the weather conditions before their zipline experience.
accessible zip wiring at hangloose
At Hangloose, we're all about accessibility and making sure everyone gets to enjoy our awesome activities, no matter their capabilities.
We know that disability encompasses a wide range of needs, not just physical mobility, and we're totally committed to providing inclusive experiences. Our team goes the extra mile to offer the necessary support and services to make sure everyone has a fantastic experience.
The zip line experience stands out as one of the most inclusive activities accessible to wheelchair users, offering an exceptional opportunity to embrace a thrilling adventure. Our meticulously designed harnesses ensure a safe and secure sit-down position, accommodating individuals with limited to no mobility. Additionally, our efficient winch system guarantees a smooth ascent to the top of the tower, allowing participants to confidently embark on the zipline journey.
Accompanying carers can join the adventure at no additional charge. To make the most of this benefit, carers must present their registered carer ID during the booking process.
We offer the option to book quieter time slots, granting exclusive access to the site. These slots start at 9am instead of 10 am, giving you the chance to enjoy a more leisurely and relaxed adventure at your own pace. This service is available upon request and comes at no additional charge.
Carer's fly free with a registered carer ID
Accessible only booking slots
Full support throughout the day
Simple Booking, Scheduling and Transportation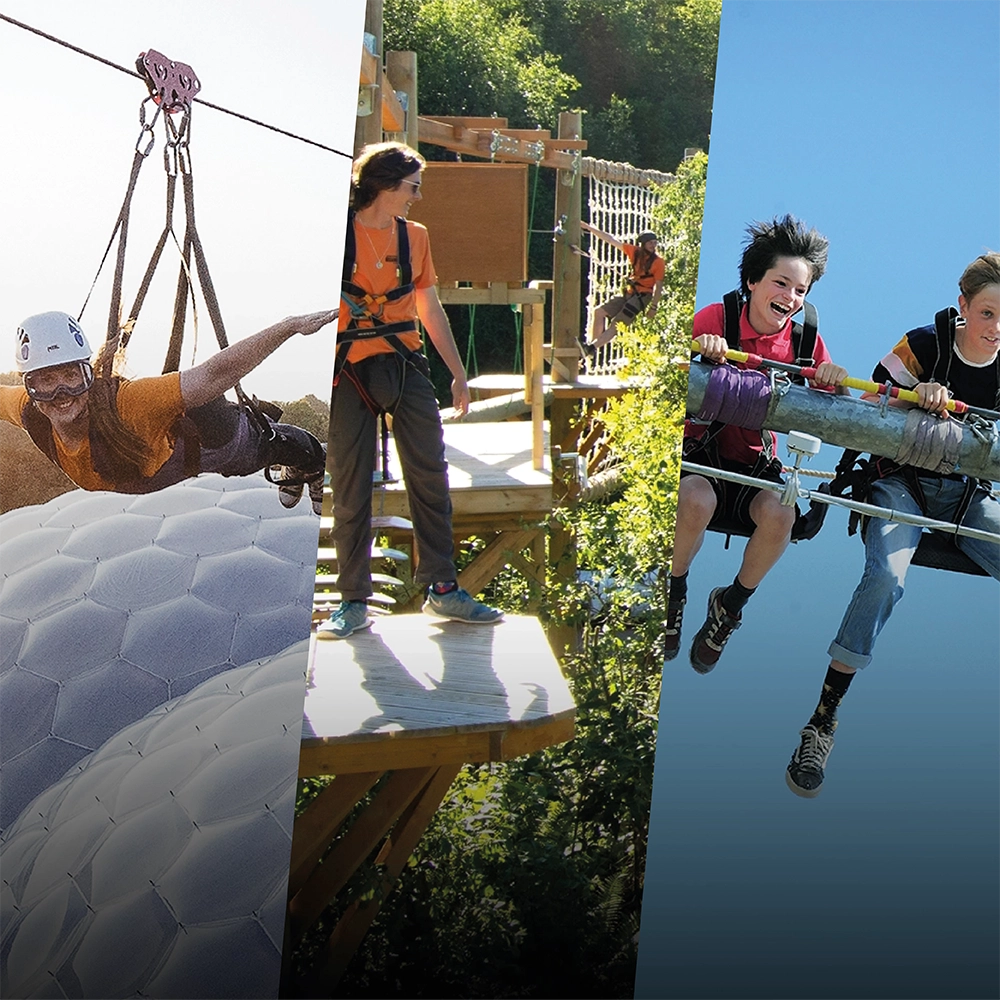 Zipline Package experiences!
Get ready for the ultimate adventures at unbeatable prices – because we're more than just a zipline park! We've got activities that cater to everyone's tastes.
With our activity packages, you get to tailor your day exactly how you want it and manage your budget with ease. We want you to have complete control over the expenses, ensuring you have a journey with us that leaves you thrilled and satisfied. So, come on over and let the adventures begin!
Our experience day vouchers, let you mix and match activities to create your own ultimate thrill-seeking experience. Our experience vouchers include two of the best UK ziplines, guaranteeing an unforgettable experience.
Bluewater Zipline Vouchers