Experience the Highest Swing in Europe
Here at Hangloose we like to give our customers show stopping activities that we know they can't experience anywhere else. This is why we have our Bluewater Giant swing, in fact it's Europe's biggest swing!
Test your bravery on this Bluewater swing. Towering the height of a 22 storey building, the pure height of this ride exceeds any adrenaline seekers expectations. Suspended amongst the chalk cliffs and over the Bluewater lakes , it doesn't get much better or thrilling than the free fall you will experience on this huge swing ride. Senses have never been so heightened – do you dare to let go?
Please Note: On average children under 10 years old, are likely to be too light for the activities. We recommend that you weigh them before booking an activity.
Minimum Weight: 35kg / 5 STONE 7LB
 Maximum Weight: 120kg / 18 STONE 12LB
Please Note: MAX OF 5 PEOPLE ON THIS ACTIVITY AT ANY ONE TIME. THERE IS A MAXIMUM COMBINED WEIGHT OF 400KG. ON SOME OCCASSIONS WE MAY NEED TO SPREAD YOUR GROUP ACCROSS THE NEXT TIME SLOT TO KEEP WITIHIN THIS LIMITATION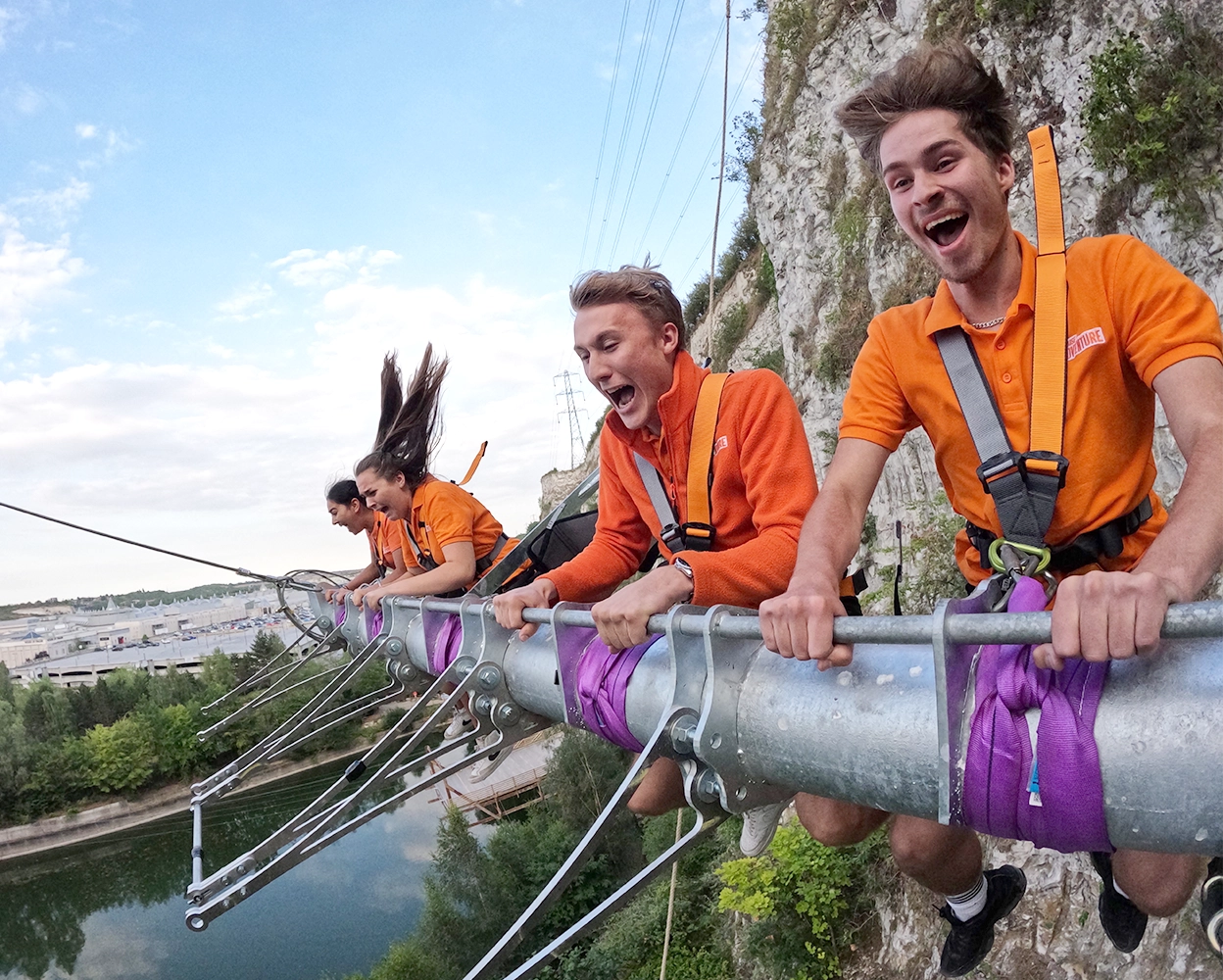 Get ready to drop as you're safely and securely strapped into our Giant Swing Bluewater! We provide five seats of secure thrills – take the plunge solo or share this skyride with friends.
You will get hoisted 50 metres  up, so you really are dangling above the cliff edge. From the heights of our Giant Swing at Bluewater you'll be able to take in all the scenery and see your friends and family below – just about! Once you're up , there's only one way down! Here comes the free fall you have been eagerly anticipating. As the Highest Swing in Europe is released and Bluewater gravity pulls you down to earth reaching over 50 mph you can't help but smile (or scream)!
Mounted right in front of your face, our media packs capture every ounce of adrenaline you experience on this big swing ride at Bluewater. It's an opportunity to take home memories for life, especially your reaction to a 50 metre free fall drop! Make the most of your adventures by living in the present and reminiscing afterwards. Show off your activity experience to friends, family, and social media crowd about this unique one-off activity! It's a guaranteed laugh as you watch back your face when you finally tackle Europe's biggest swing in Kent!