England's Longest Zipline

Zipline Gift Voucher Experience
Are you looking for the ultimate zipline adventure? Look no further than England's longest zipline, located at Bluewater Shopping Centre. This zipline experience offers stunning views of the landscape as you soar above it at speeds of up to 50mph.
Whether you're looking for a unique activity gift voucher or simply seeking a thrill, this zipline experience is not to be missed.
Consider purchasing a zip wire voucher for them to try this exciting zipline adventure.
Located near London this is the ultimate zipline voucher is perfect for birthdays, Christmas or other special occasions 
So what are you waiting for? Give the gift of adventure. Let your friends or family members take to the skies and experience the ride of their life at England's longest zipline.
Busy diary? No Problem!
We give you 12 months to plan your adventure!
Add a bit of luxury to your gift!
Select a physical copy of your Gift Voucher at checkout to receive it in our exclusive Gift Voucher Wallet!
Last minute gift shopping?
We can provide a digital copy of your Gift Voucher to help you avoid delivery times!
The perfect activity gift voucher does exist, and it's not just a cliché. Forget about the random trinkets and knick knacks – give the special person in your life an adventure experience voucher they will never forget.
An activity voucher for England's longest zip wire is sure to leave them screaming with excitement. Just imagine the rush of adrenaline as they zip through the sky, taking in gorgeous views while pushing their limits. Don't worry about having to plan everything yourself – simply purchase a voucher and let the experts handle it.
All necessary equipment will be provided.
All children under the age of 16yrs must be accompanied by an adult (18+ yrs) on site.
MINIMUM AGE: 8YRS   MINIMUM WEIGHT: 35KG   MAXIMUM WEIGHT: 120KG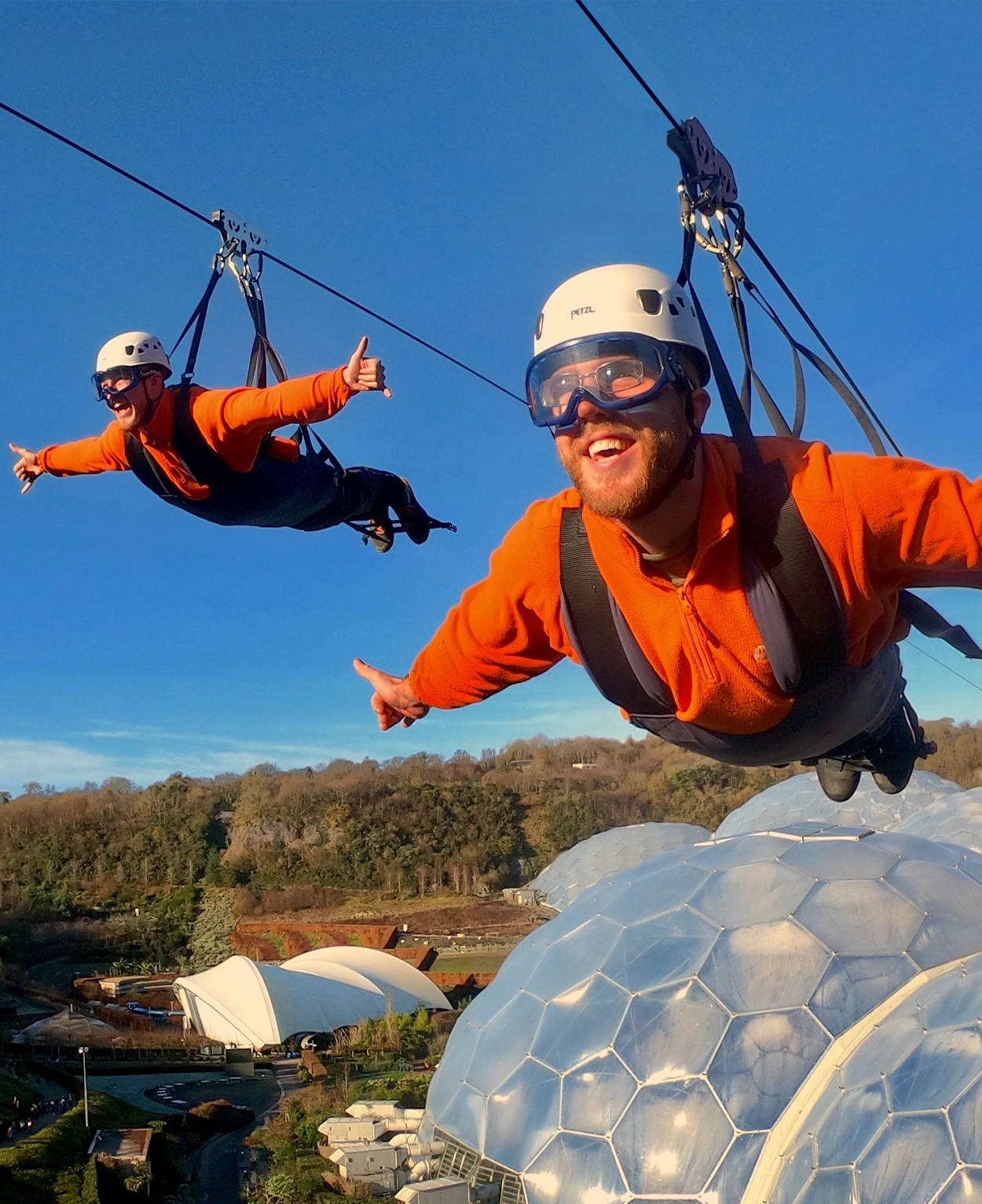 The Skywire flyer process
Once your voucher is redeemed and your zipwire experience is booked, get ready for a thrill of a lifetime. Check in at our reception before heading to the harnessing area where expert instructors will fit you with all the necessary gear.
Before being transported to the zip wire dispatch tower, they'll give a comprehensive and reassuring safety briefing. 
Prepare for your nerves to soar as high as the zip wire itself. This zip wire adventure activity voucher is guaranteed to be an unforgettable experience. So what are you waiting for? Redeem that voucher and let the zip lining begin!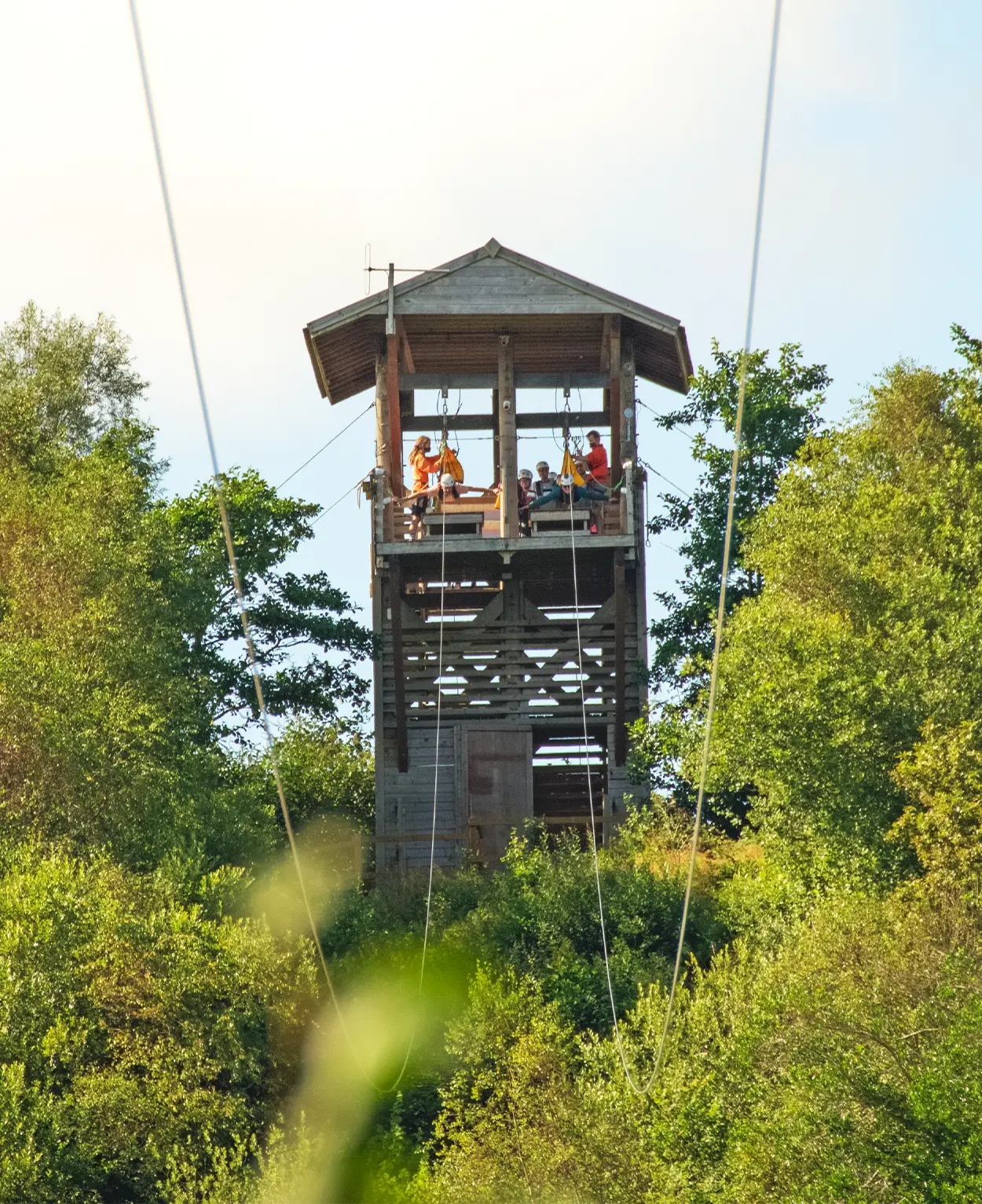 England's Longest ZiplinE
Are you looking for a thrilling zip wire experience voucher? Look no further than England's longest zip wire, measuring a whopping 724 metres and reaching speeds of up to 60 miles per hour.
This zip wire adventure is sure to get your heart racing as you soar through the air, taking in stunning views of the surrounding landscapes. And what better gift to give than the gift of adrenaline?
Why not Zipline Backwards and try inverse!
See the lakes and nature trail from a different perspective!
Inverse is the closest thing to flying, get ready to cruise backwards 724 metres at a cool 50mph, in approximately 45 seconds. Bragging rights are guaranteed when you come back with stories of flying backwards over stunning landscapes.
Shop the inverse zip wire vouchers here.
Did you know that adding another activity to your zipline experience not only gives you an adrenaline rush, but it can also save you some money?
That's right – by purchasing a multi-activity voucher, not only are you treating yourself to a thrilling adventure, but you're also saving a pretty penny. Dare yourself to make some savings while soaring through the sky. It's a win-win situation!
View all
Activity Packages
Skywire, Skydive
and
Giant Swing
Capture all the action with our
Digital Photo + Video Package
Our headcams have you covered when it comes to capturing all the excitement from your zipline adventure.
With top of the range technology, our cameras will film every reaction as you zip down England's longest zipline. In fact, it's such a perfect addition to your experience that we can't imagine why anyone would want to pass it up.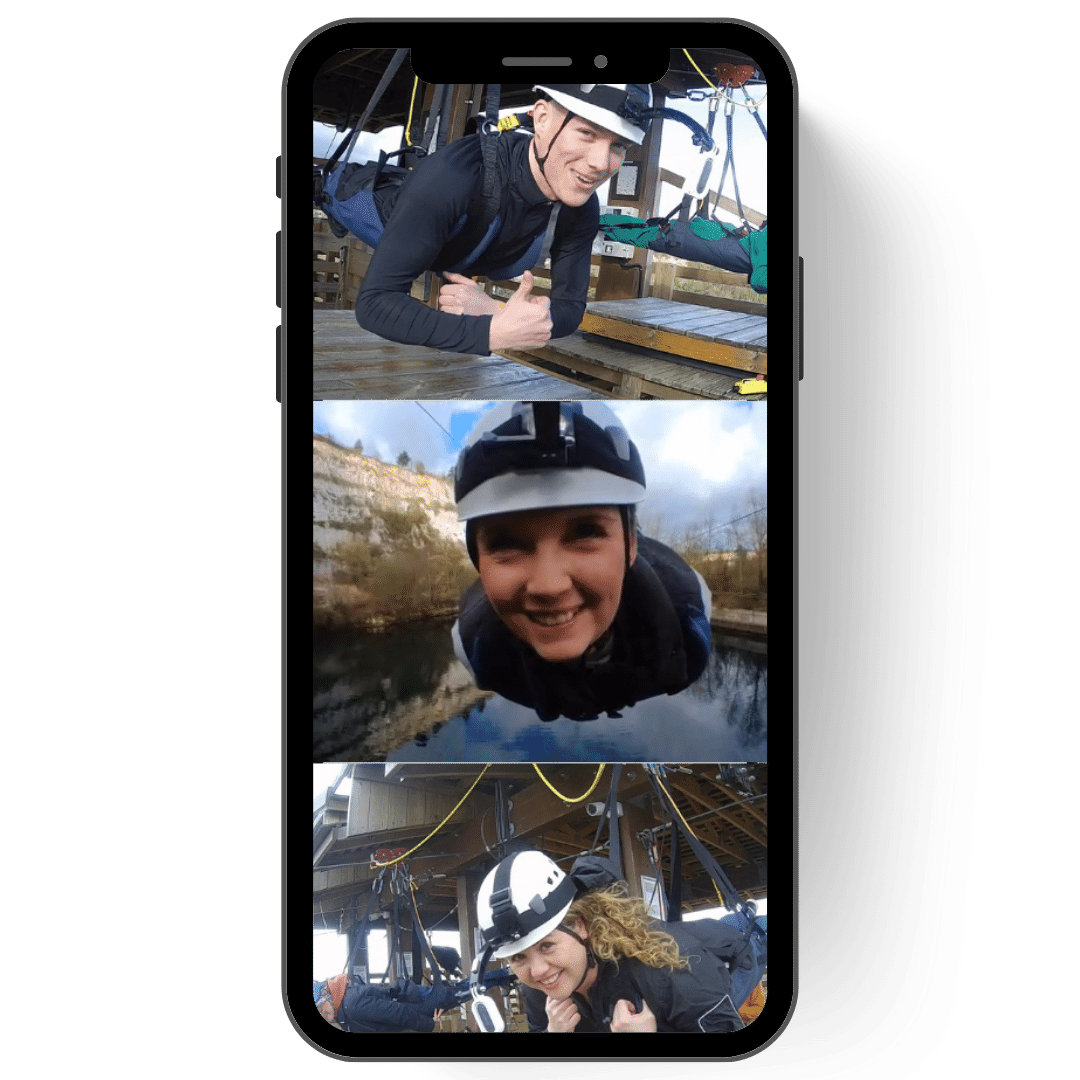 Gift Voucher Experiences!
Check out our other experiences
Reach new heights of up to 33ft with the UK's only outdoor skydiving machine. Outdoor skydiving is much more similar to a free fall , giving you more freedom to explore the art of skydiving without limiting the views – it really feels like you're flying!
Why not make a day of it? Gift an action packed day out with our activity packages!
Only have time for a zippy visit? No problem! You can gift a single activity today!
Not sure what activities to book for someone? Our monetary vouchers let them pick!