If the outdoor lifestyle is your thing, and you're seeking outdoor activity jobs or adventure work, then you need look no further than us here at Hangloose Adventure.
Our Hangloose Bluewater jobs and Eden Project jobs don't require being tied to a desk all day – our staff feel most alive when out and about in the great outdoors, no matter the weather! They revel in working at heights and making sure every visitor has nothing short of an amazing time. It's this empowering sense of teamwork that really helps fuel their passion and drive.
No formal qualifications are needed for our Bluewater careers or Eden careers as we provide full training.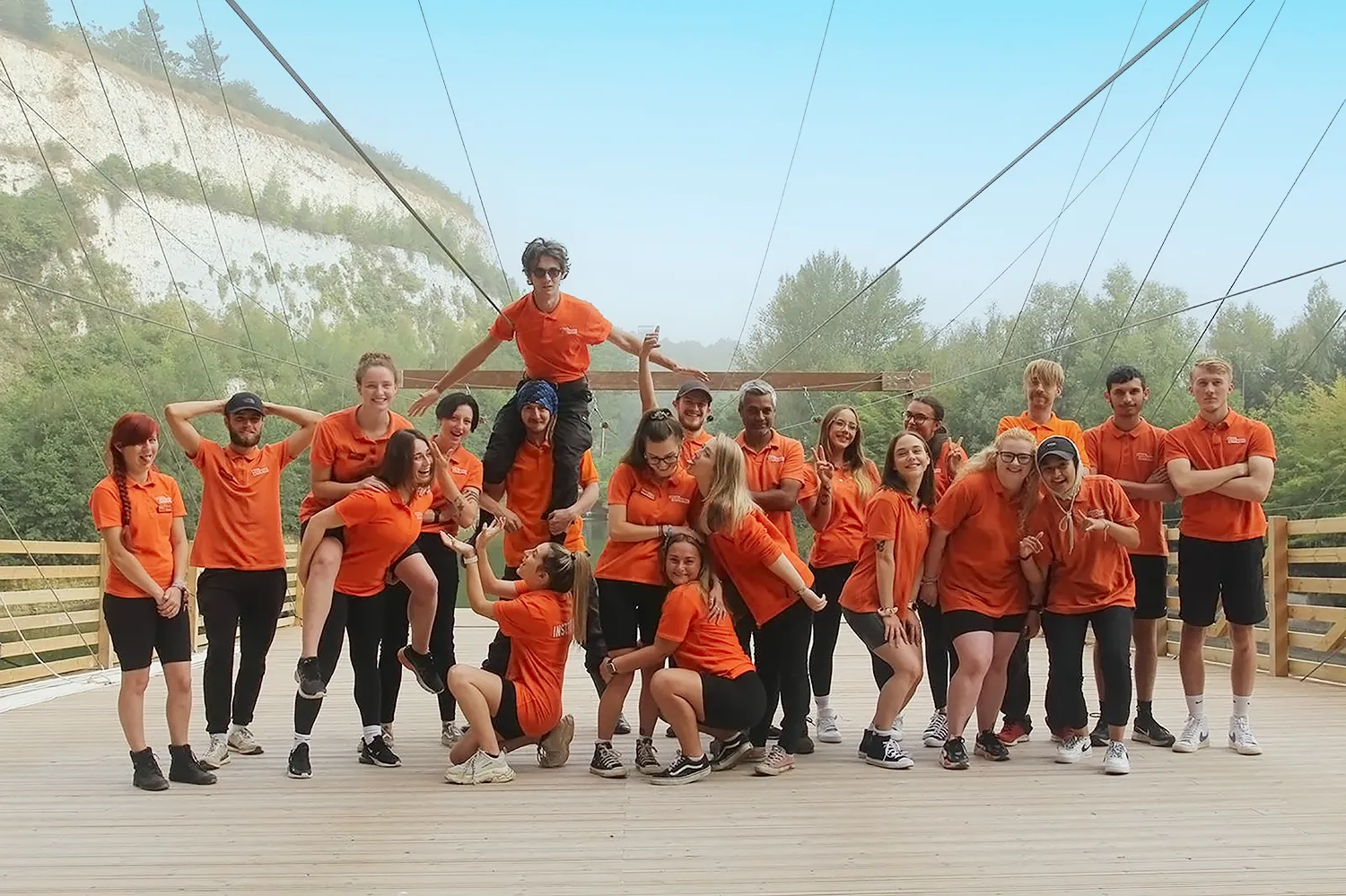 Job Opportunities we offer
At Hangloose no matter what your experience level is, we regularly hire for part-time, full-time, and seasonal job roles such as:
Outdoor Activity Instructors
Get ready for an adventure of a lifetime! Help our guests soar through the air and feel the adrenaline rush on one of England's fastest/longest ziplines. Then, let them take on skydiving or any other thrilling activity that you have up your sleeve as their instructor to create memories they will never forget! Our active outdoor jobs make work fun and rewarding!
Are you looking for an exciting job that involves connecting with adventurous customers? But want to avoid a reception job? This role is an amazing opportunity to experience the thrill of adventure along with our customers! You'll get to drive them 1/2 mile and safely deliver each one right at the launch point for their zipline journey – plus you can answer any questions they might have along the way.
Our Eden vacancies also include café assistants. Our food and beverage operation is crafted for speed, so we can keep up with the high demand. Serving orders in a flash, it's no wonder our customers come back again!
Retail + Reception Assistant
You'll be the first to fire up guests' excitement for an unforgettable experience! Here's your chance to make memories last as you greet customers and help set them off on their next thrilling adventure. Today is only the start of something truly epic – look at our adventure jobs now and make it happen.
Outdoor Skydive Instructor
Ready to take flight? Jump into a once-in-a-lifetime career with Hangloose Adventure! You'll soar as an integral part of their operational and experiential team, guiding customers on their thrilling skydiving journey. So don't hesitate – come join our skydive jobs today!
You must be physically fit, active, and due to the customer-facing nature of our roles, confident in providing consistently high standards of customer care for our visitors throughout their experience.
Do you have what it takes for one of our outdoor adventure jobs?
Our Current Job Vacancies
There are currently no Hangloose Adventure Bluewater vacancies.
Please check back in a few months. Something awesome might be just around the corner!
We are looking for several new instructors to join our fun and friendly team for the new season ahead.
The role is seasonal and will require your full availability across the summer season and during the Easter, Summer and October school holidays both weekdays and weekends.
Zero Hour Contact
Fixed term basis until December 31st 2023
Contract length: 7 Months
Salary: Minimum of £10 per hour after training
What is it like to work for Hangloose?
Here at Hangloose Adventure we pride ourselves on providing jobs in Cornwall and jobs at Bluewater. Hiring from Cornwall and Kent's local talent pool signals to our customers that we are truly invested in the surrounding areas.
There is no doubt that all our staff love to be outdoors in all types of weather, working at height, ensuring our customers have an amazing time on our activities and keeping our visitors, their work colleagues and themselves safe at all times.
"We get a lot of visitors that are petrified of heights, and don't always anticipate what a challenge some of the activities may be. It is so rewarding getting someone down the zip wire with confidence when they had previously refused. The adrenaline is infectious"
– James (Duty Manager)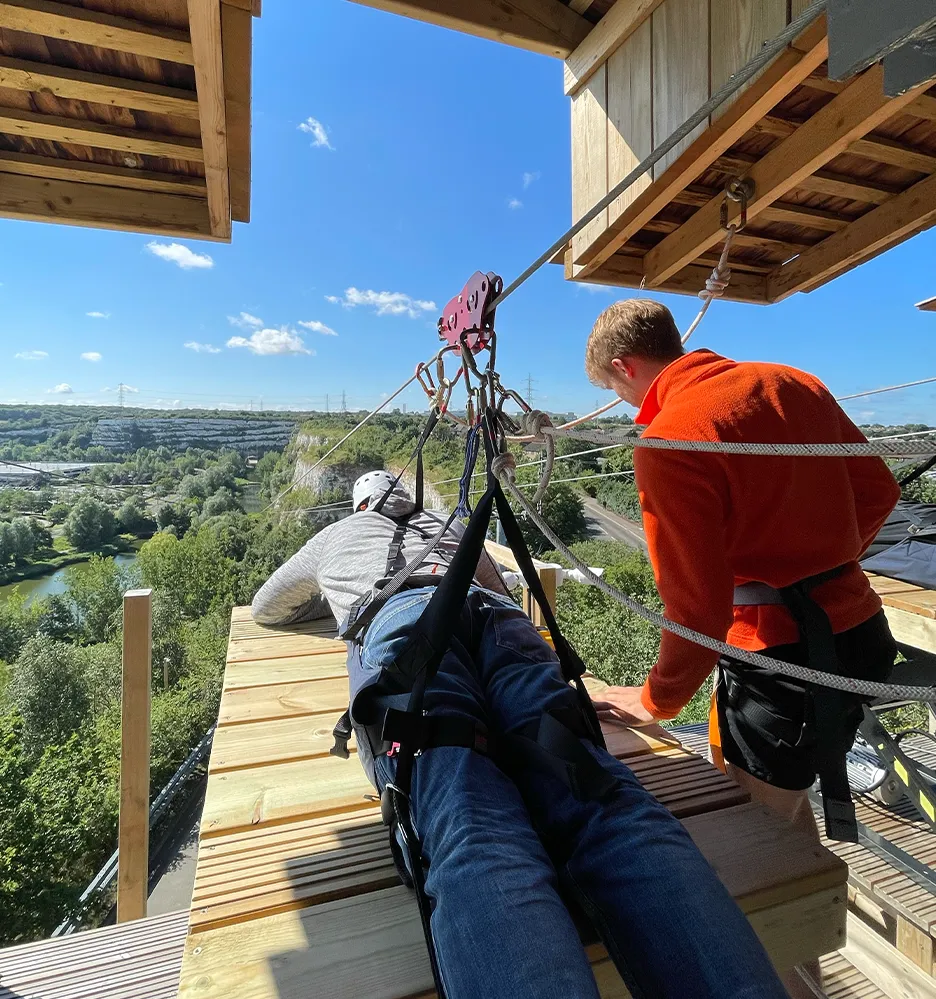 With an unmistakable drive for adventure, why not take the plunge into a Hangloose Adventure job opportunity? Take that first step towards thrilling experiences – get in touch today!