Working remotely has its benefits, but it can be difficult to maintain the same team dynamic while being apart. At Hangloose, we provide unique corporate team building activities for employees to reconnect and bond with their colleagues as they embark on exhilarating adventures!
Whether you're looking for outdoor team building or just an exciting change of pace, our experienced team will ensure that your corporate day out is exactly what you expect. Reach out at any time and let's start planning the perfect team away day.
Team Activities Near London
At Bluewater we have multiple adventures, qualifying as the best outdoor activities for team building.
Your team can experience the rush of England's longest zipline, rocketing 100 metres above ground! They can also take a thrilling drop on Europe's biggest swing and leave behind all their office worries. For those looking for an exciting challenge, there is our treetop obstacle course, brilliant for a team building experience. Instead of the same day-to-day grind, why not get creative and have some fun with your co-workers with our team building days? Let us help you plan an unforgettable corporate day out near London – that'll show your team the lighter side of corporate culture and build relationships with fun, stress-free activities.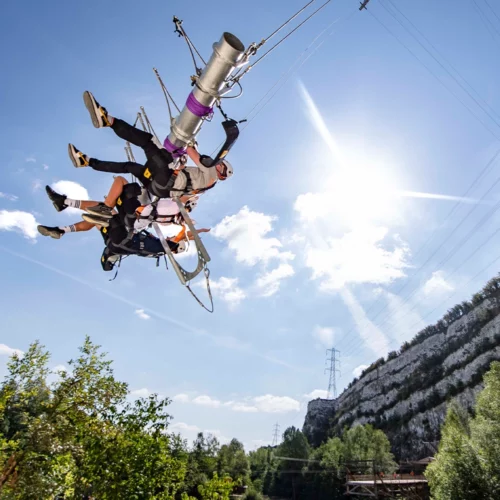 Fun Team Away Days at Bluewater
Our team activity days just got even more exciting as we launch our corporate games! We have multiple corporate bonding activities that make use of our adventures with an extra twist! Put your brains to the test or get ready to get wet N' Wild.
Team Building Activities in Cornwall
Let your team come and experience the rush of a lifetime with our team building activities in Cornwall! Soar sky-high and enjoy breath-taking views at England's fastest Skywire up to 60 mph, or take an adrenaline plunge dropping 50 feet over stunning cliffs in an old clay quarry!
The Eden Project has never looked better than from above! Fancy a little healthy competition? See who dares jump off the highest platform into our Giant air bag , an activity that requires a perfected landing. We also have our Aerial trekking course perfect for business team building to make it from one side to the other without stumbling! – guaranteed laughs.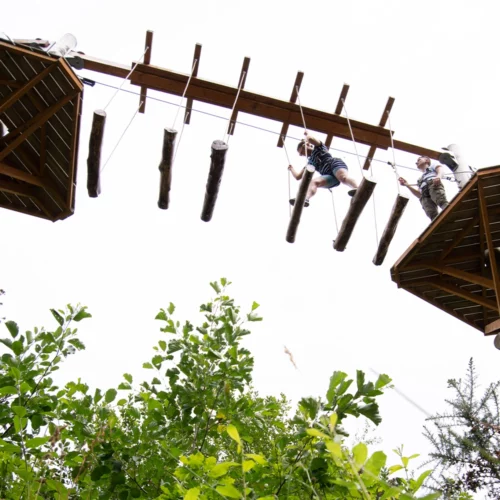 Fun Team Away Days at Eden
We will always try our best to fulfil any corporate day out ideas, as we understand you want to create the perfect day for you and your team. It's time to show your appreciation with Hangloose outdoor corporate activities, a day that will surely be remembered amongst the business, and a conversation starter amongst even the quietest of colleagues.
EXCLUSIVE DISCOUNTS • SAVING UP TO £40 • PACKAGES FROM £50PP
Simple booking, scheduling and transportation
Support with full health and safety documentation
Tailored experiences to build value and purpose to your trip
Unique adventures for a Guaranteed perfect corporate day out
The Best Corporate Team Outings Ever!
Give your corporate group a much-needed break from the office grind with an exciting adventure at Hangloose!
Allowing them to have fun and reset as a unit, this experience will revitalise their spirits for optimum productivity. Transform the ordinary corporate event into an unforgettable journey! Unlock your team's creative potential through fun corporate activities that promote conversation and foster collaboration. Building a strong company culture is based around creating meaningful shared experiences – start with Hangloose.