England's Fastest Zipline

Eden Project Zipline Voucher Experience
Looking for the perfect present? How about an experience gift voucher for an exhilarating ride down the Eden Project Zip Wire in Cornwall?
The Eden Project is home to two of England's fastest zip lines. Ready to take on the sky with our activity voucher? Whilst Ziplining you'll be suspended 96 metres above ground right over the domes, but not before being face first in superman style!
Whether you're looking for a unique activity gift voucher or simply seeking out some excitement, this Eden zip wire experience will not disappoint. Consider purchasing one of our amazing zip wire experiences – let your friends try their luck on this high wire adventure!
Located at the Eden project it's a perfect Cornwall experience! Either as an addition to birthday celebrations or during Christmas time; we have something just right, no matter what occasion, don't wait another minute before giving these exciting gift vouchers away today.
Master the Flying Man Position
Busy diary? No Problem!
We give you 12 months to plan your adventure!
Add a bit of luxury to your gift!
Select a physical copy of your Gift Voucher at checkout to receive it in our exclusive Gift Voucher Wallet!
Last minute gift shopping?
We can provide a digital copy of your Gift Voucher to help you avoid delivery times!
Our Eden Project zipline is a thrilling and exciting activity for anyone. For those looking to add some extra thrill, this experience is not one you should miss out on! Consider giving them the ultimate gift – zip wire vouchers, so they too can try what so many people call "the ride of their life."
Can you feel the breeze in your hair and see double? That's because there are two zip lines, which means that our guests will have even more fun going together.
To take part in our zipline adventure you must be…
MINIMUM AGE: 8YRS   MINIMUM WEIGHT: 35KG   MAXIMUM WEIGHT: 120KG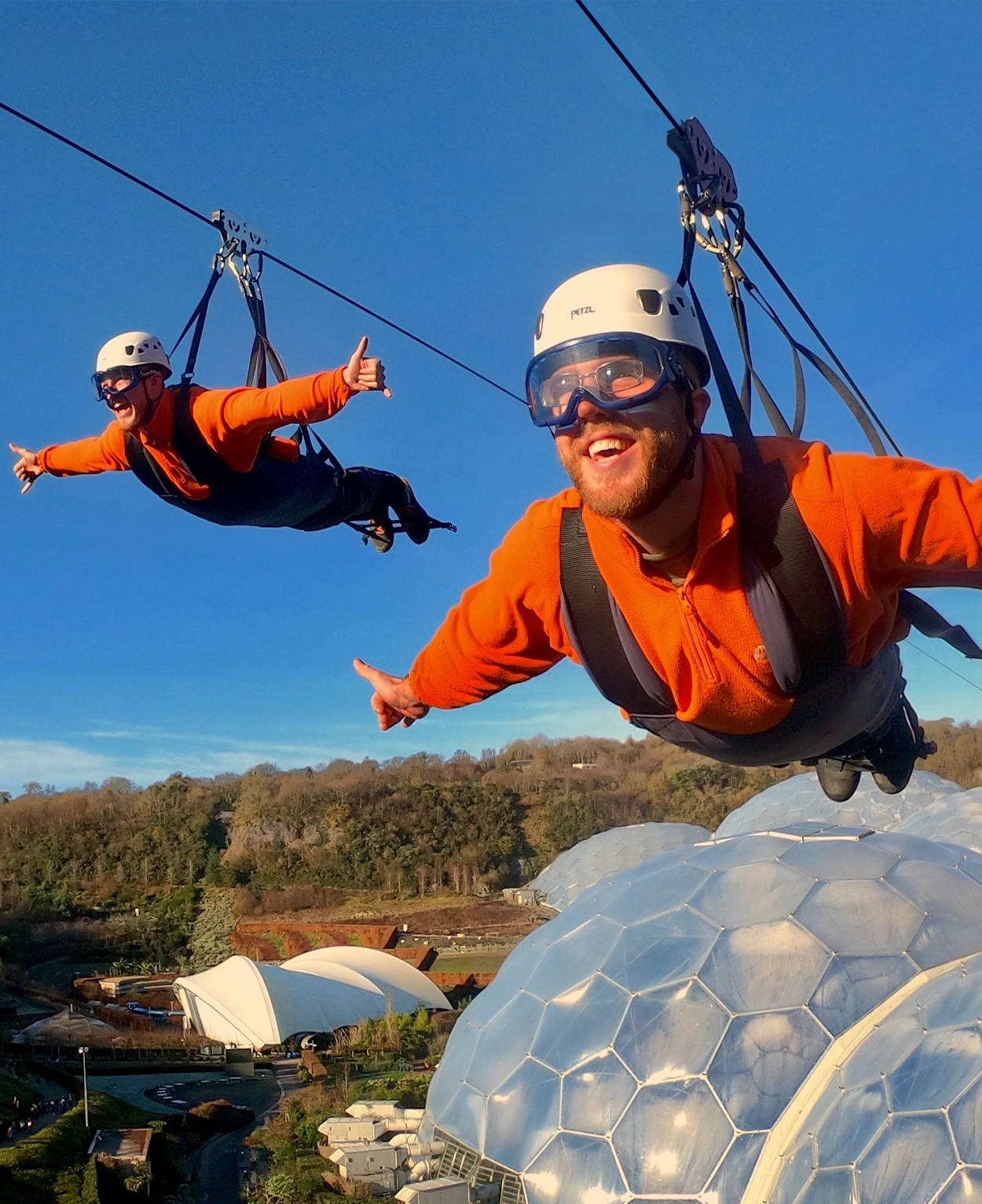 The eden zip wire process
Prepare for one of the best days out in Cornwall! Looking the part in your specially designed harnesses, there's time to pose for a nervous photo before boarding the bus and heading up to the Zipwire tower where we will take care of any needs before flying off!
Flow over the domes, see what life would be like below, if you were a bird! Feeling like a kite on our zip wire, you'll experience half a mile long flight with breath-taking views in every direction – including up close to nature at its finest: The Eden Project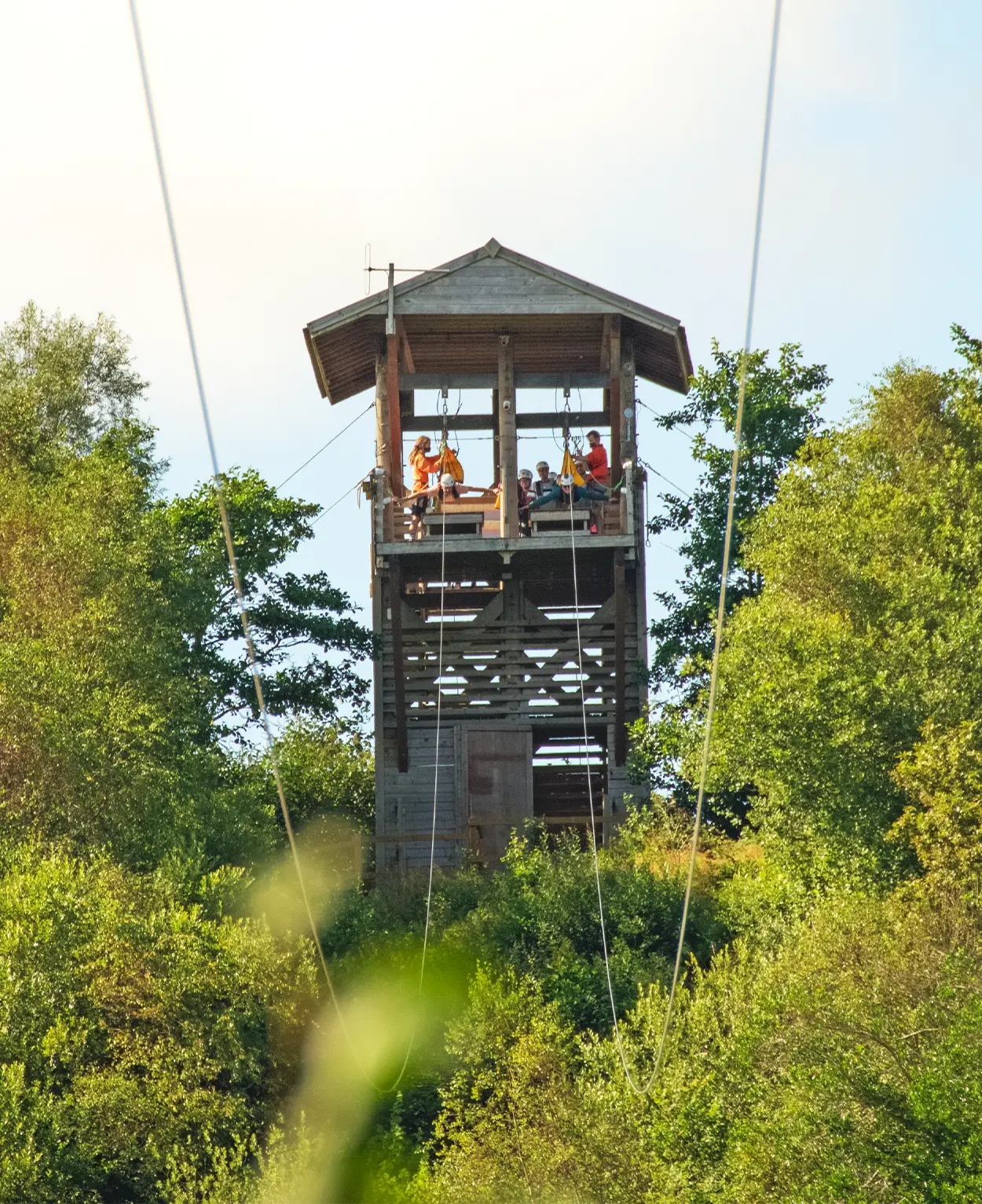 You will get to see the Eden Project, a sight so beautiful it's been voted one of Britain's top ten sights. You'll fly over an old clay quarry, with spectacular views of the landscape. Our Eden project vouchers allow you to appreciate the natural environments work below.
We used to call this place the China Clay Pit. Now, it's a thriving living theatre of plants alongside people that demonstrate our dependence on vegetation as well as technological creativity for its regeneration into new landscapes! It's a breath of fresh air.
England's Fastest Zipline
With our Cornwall Zip Wire we can promise that all eyes are sure to be focused solely upon one thing: skyward rushing 60 mph down 660 metres zipline in less than 45 seconds..
We are not only home to the longest zipline in England but also England's fastest zipline So, if you want to give someone the ultimate in adventure and excitement then this is it. You will be giving them a one-of experience that they can enjoy and remember for years down the line!
Zipline Backwards and try inverse!
Our Eden Project activities not only allow you to experience England's fastest zip wire – but why not go down backwards? Inverse has a unique and exciting way to see the domes from a different perspective.
They offer backward flights for those who want more adventure, at an incredible speed of up to 60mph! This experience guarantees bragging rights as you come back with stories flying up to 96 feet in the air
Want to have the best day out in Cornwall? Grab a deal with our experience gift voucher bundles! Great savings and an awesome present, don't miss this opportunity to spoil yourself or someone special.
These experiences aren't just great Christmas presents- get them something actually exciting this time of year. Birthdays, wedding Gifts, or events it's a fantastic way to celebrate and congratulate someone! Or get a gift voucher for a whole day of fun filled Cornwall adventure.
View all
Activity Packages
Skywire, Skytrek
and
Giant Swing
Capture all the action with our
Digital Photo + Video Package
Take it from us- you will want to see your reaction after completing the Skywire over Eden Project. Our Digital photo and video packs are a great way to show off and physically harbour your flights!
We know you'll want a physical manifestation of what was otherwise just an online purchase so why not add a little something extra to your stand alone Eden vouchers.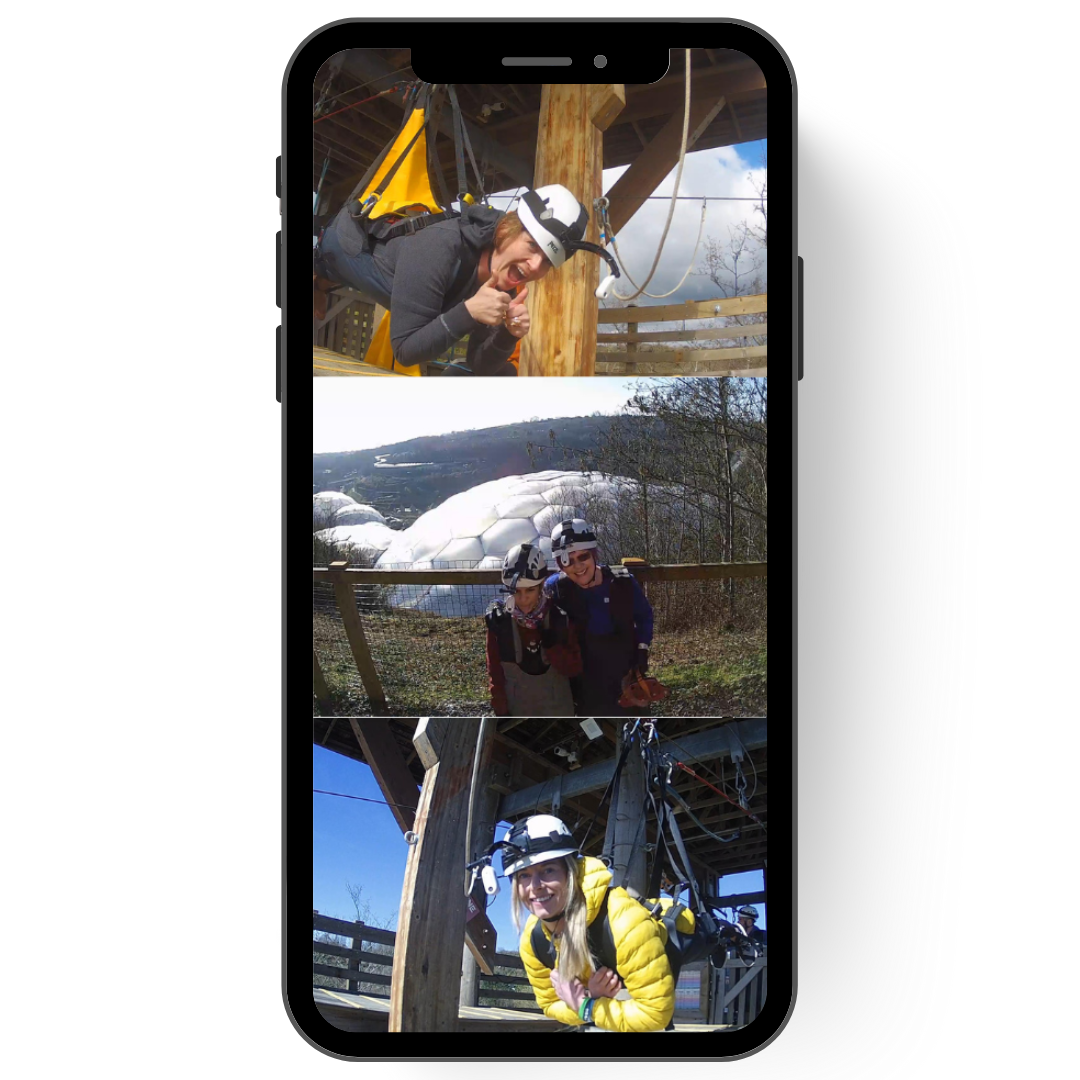 Gift Voucher Experiences!
We have multiple Cornwall experience Gifts to choose from
This also includes our Giant swing with a free fall of up to 50 mph and the Aerial Trekking course as you challenge the treetop obstacles. Or something a little less adrenaline fuelled? We have Big air- a Gigantic air bag and our rock climbing with multiple climbing walls.
Why not make a day of it? Gift an action packed day out with our activity packages!
Only have time for a zippy visit? No problem! You can gift a single activity today!
Not sure what activities to book for someone? Our monetary vouchers let them pick!