The Eden Project Cornwall

About The Eden Project Cornwall
Hangloose Adventure is proud to be based in a place of wonder, the Eden Project. Here, education and charity come together to create an unforgettable experience for visitors from across the globe – one that encourages people to form meaningful connections with nature while striving towards positive sustainable change.
At the Eden Project Cornwall, they recognise that human and nature are inseparable; by encouraging a culture of care and respect for our planet, we can ensure an enlightened future.
With an impressive sustainability mission and values of ethical sourcing at its heart, our business is proud to work closely with the Eden Project. Being one of Cornwall's top visitor destinations makes us one of the best things to do near the Eden Project – our commitment in striving for excellence means that we are both among some of the most exciting activities visitors can experience whilst visiting St Austell Cornwall!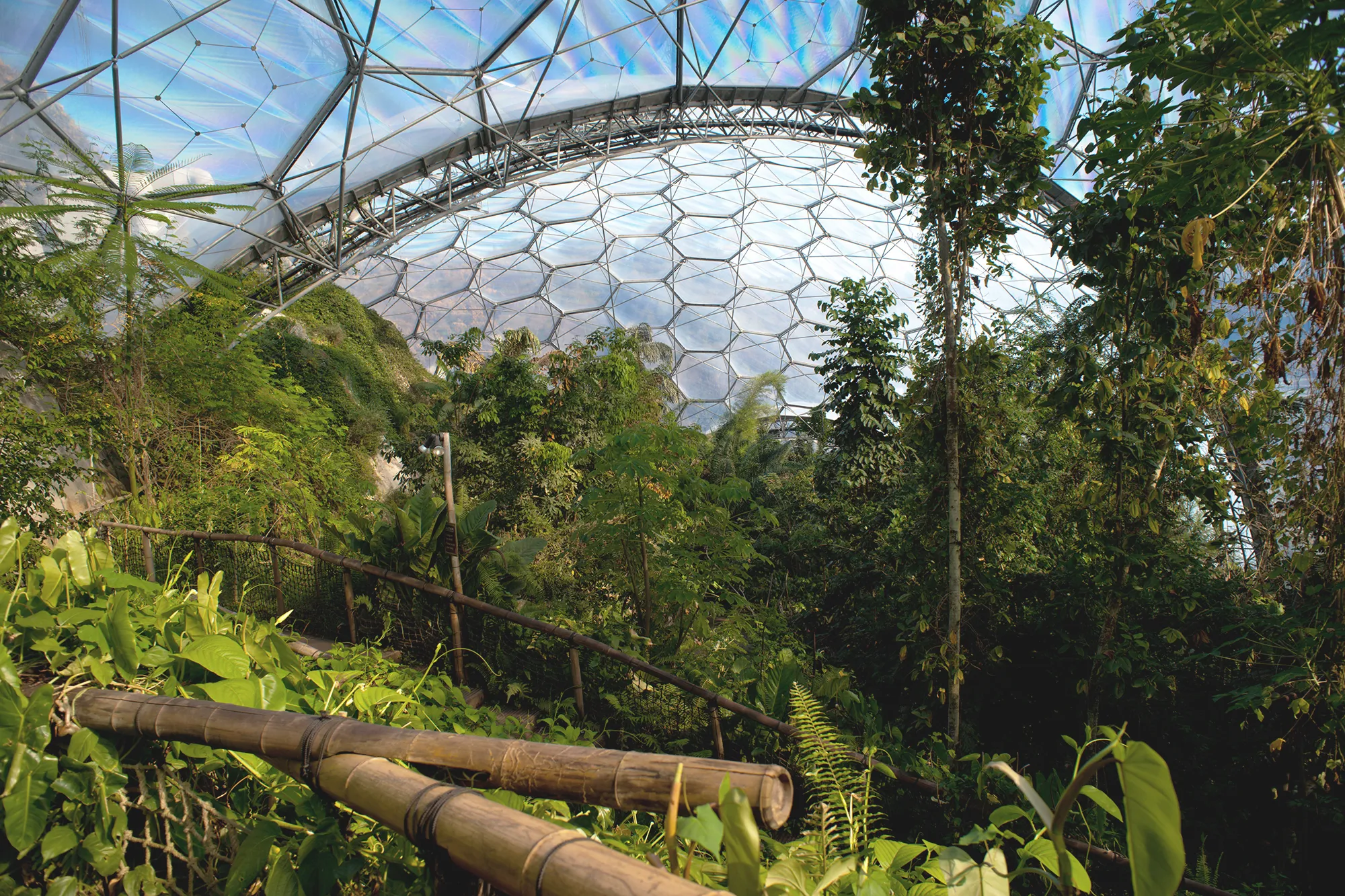 Eden is a transformative paradise – rising from its humble beginnings as an industrial crater, it has been transformed into a global garden oasis featuring the famous Eden Project domes. Within these impressive structures lies something truly spectacular: home to Earth's largest indoor rainforest and the Mediterranean fragrant medley of fruits, herbs, and cacti.
A journey to Eden promises a diversity of environments and experiences! Explore multiple biomes, immerse yourself in captivating exhibitions and expand your knowledge through Eden Project learning. Plus – if you're feeling brave enough – visit Hangloose Adventure for even more excitement. You do not need an Eden Project ticket to visit Hangloose Adventure, but will need to pay separately if you would like to enter Eden – which we thoroughly recommend.
Things to do Near the Eden Project
There are multiple amazing places to visit near the Eden Project – including us at Hangloose Adventure!
Experience the thrill of soaring through the sky over Eden Project's breath-taking biomes with England's fastest zipline! Make unforgettable memories as you take on our tree top Aerial course, fly off a giant airbag, climb to new heights and swing from epic cliff-tops. Treat yourself (and your friends & family) to an adventure not soon forgotten by combining some time using Eden Project vouchers followed up by all that Hangloose has to offer – get ready for a blast!
The attractions near Eden Project don't end there. Visit the castles, beaches and gardens that Cornwall has to offer! You can find plenty of activities here.
Eden Project Accomodation
When you visit the Eden Project, make it an extraordinary experience by opting for glamping at YHA! – the official accommodation for Eden Project.
With numerous types of onsite accommodation – get ready to take your nature exploration up a notch. Enjoy unparalleled access with their wild camping during popular Eden Project session shows where you can camp out in style under starry skies.
Hotels near the Eden Project include:
The Waterwheel (11 minute drive)

Woodland Lodges at The Cornwall (13 minute drive)
You The Cornwall Hotel & spa (15 minute drive)
Please note: The YHA is currently closed and will reopen from April 2023
Eden Project Zipline, Swings and More
Start your day by exploring The Eden Project St Austell, taking in its diverse beauty and engaging activities.
Then end the perfect day with a rush of adrenaline as you whizz down the Eden Project Zipline, which is in fact England's fastest zipline, we also have a Giant cliff swing! From exciting rides to interactive experiences – Choose from multiple of our activities and make a day filled fully appreciating Eden and what it has to offer.
Embrace your next adventure in Cornwall! The activities at Eden and Hangloose differ so much it creates a diverse day whilst still focusing on nature and sustainability. We would love for you to support businesses like ours that operate for a good cause and provide so much entertainment!
Tickets for the Eden project will need to be purchased separately from any activities at Hangloose Adventure Eden. You can find Eden Project Prices here!