TREETOP TREKKING VOUCHER EXPERIENCE
Nothing is better than a fun-filled day out high up in the trees on our Aerial trekking course.
With our range of packages for all ages and abilities there is sure to be something available no matter how much courage or skill you have! Our Cornwall adventure course takes anywhere from 30 minutes to an hour depending on your tree surfing abilities.
It's a day you won't forget and a night you will certainly sleep well on. Our high ropes course is designed to challenge your problem solving skills and agility skills like no other, bring friends or family and compete or work together, you decide! Shop our treetop vouchers below and tree surf right beside the Eden Project.
Busy diary? No Problem!
We give you 12 months to plan your adventure!
Add a bit of luxury to your gift!
Select a physical copy of your Gift Voucher at checkout to receive it in our exclusive Gift Voucher Wallet!
Last minute gift shopping?
We can provide a digital copy of your Gift Voucher to help you avoid delivery times!
The High Ropes Course Gift Vouchers
This high ropes adventure will be full of laughter and excitement as you tackle all sorts of tree top challenges on our outdoor obstacle course! It awaits those who dare with a high wire adventure that's only limited by your imagination.
You can go fast or slow but there are also plenty of stopping points throughout, so no matter how much time you spend up above ground, everything has been thoughtfully planned out – especially the views. Which makes this one a truly unique experience. Our activity vouchers are ready for you!
Can you feel the breeze in your hair and see double? That's because there are two zip lines, which means that our guests will have even more fun going together.
To take part in our aerial trekking adventure you must be…
MINIMUM AGE: 8YRS   MINIMUM WEIGHT: 30KG   MAXIMUM WEIGHT: 120KG
TREE SURF RIGHT NEXT TO THE EDEN PROJECT
Experience a tree top adventure right next to the beautiful eden project. Climb up using the high wires and beat our challenging high ropes course.
Towering above ground, you'll find yourself in an incredible world full of adventure overlooking domes from a project that builds relationships between people & nature – The Eden Project!
Views from the trek are wonderful! Take a minute to snapshot your moment too (mid adventure) on our Treetop stage with the beautiful scenery from the Eden project as background. This makes sure you never forget the day out you had with us!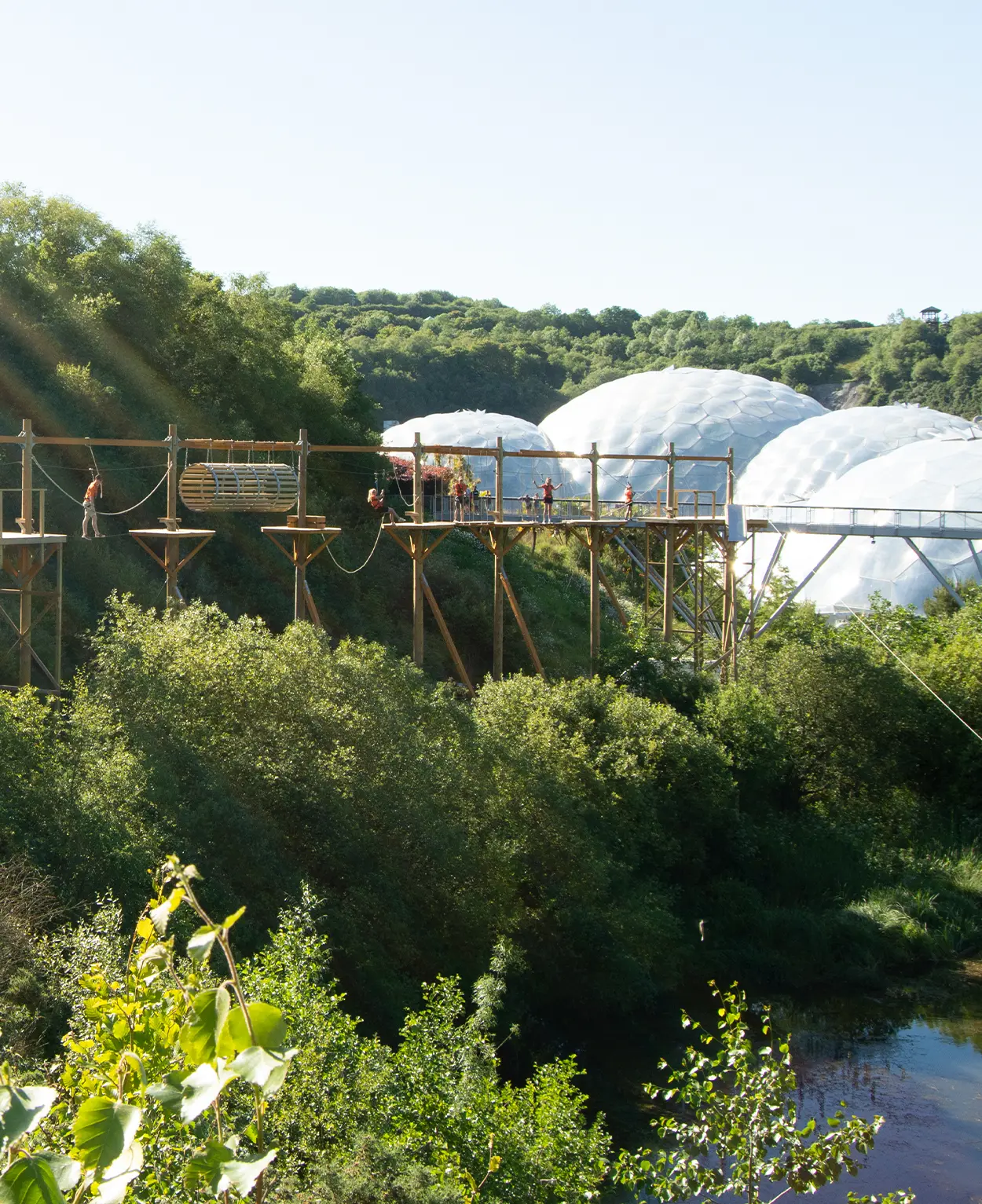 We all know that time off work is important, but did you also consider the value of multi-saving?
At Hangloose we take this into consideration when offering our customers an awesome activity package voucher. With various activities outdoors including tree trekking on our high ropes course, England's fastest zipline and even our gigantic swing! Choose multiple activities and make a fun fuelled day out possible at our outdoor adventure park.
View all
Activity Packages
Skywire, Skytrek
and
Giant Swing
Capture all the action with our
Digital Photo + Video Package
Along with your treetop voucher you should look at getting the Digital Photo selfies.
This captures the moment like no other, with the beautiful Eden Project domes as the background. Pose during your treetop adventure whilst all kitted up and look the part! Definitely a boasting matter!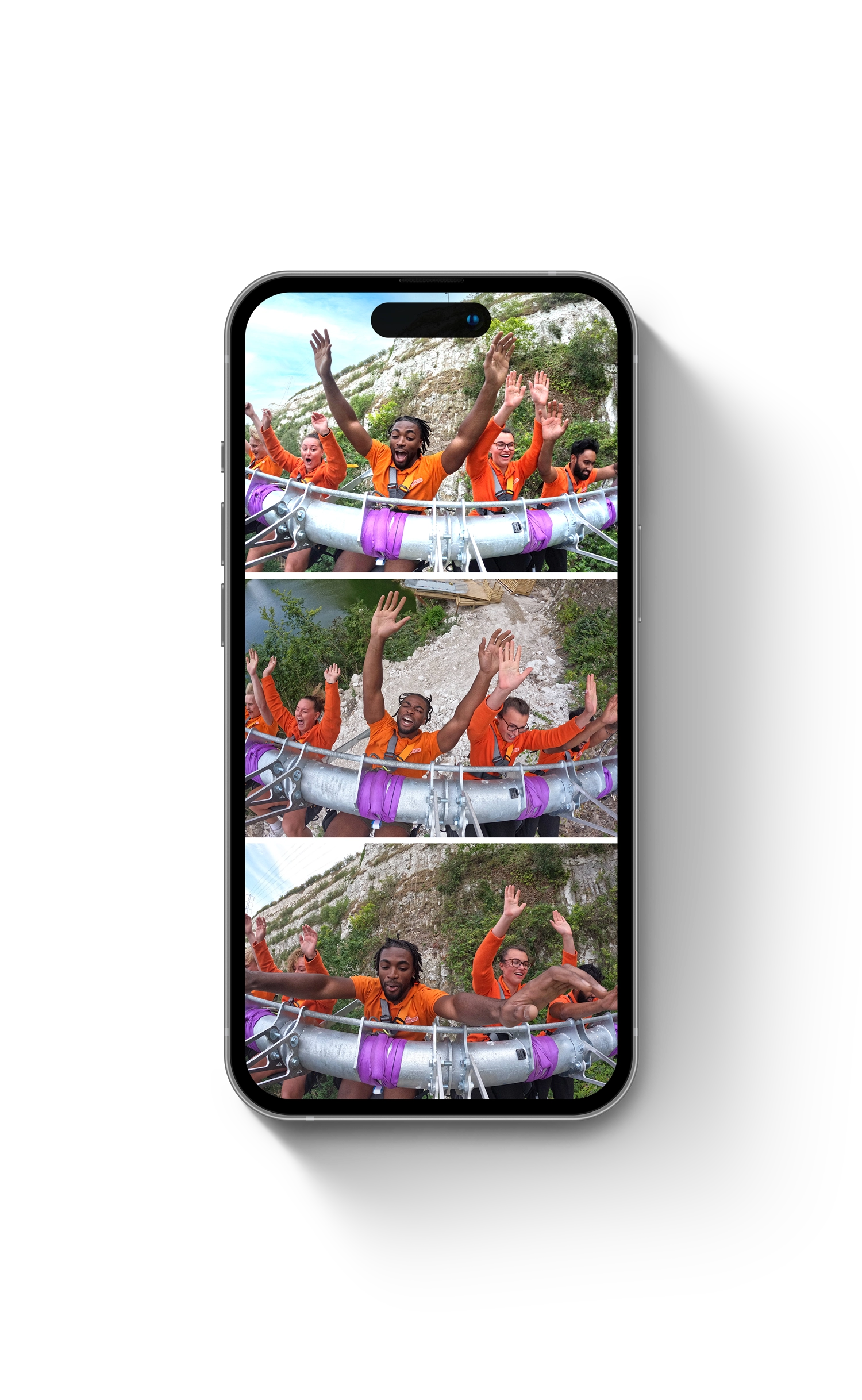 Gift Voucher Experiences!
Looking for a belly dropping sensation?
Or want to feel like you're flying through the sky. We have a great range of outdoor activities in Cornwall to suit every member of your friends or family. We are home to England's Fastest Zipline, a giant Gravity Swing, climbing walls and more. Need to buy a friend a wedding present? Possibly congratulate someone on an accomplishment. What's better than one of our activity vouchers or a multi activity package!
Why not make a day of it? Gift an action packed day out with our activity packages!
Only have time for a zippy visit? No problem! You can gift a single activity today!
Not sure what activities to book for someone? Our monetary vouchers let them pick!