Why not make a day of it? Gift an action packed day out with our activity packages!
Only have time for a zippy visit? No problem! You can gift a single activity today!
Not sure what activities to book for someone? Our monetary vouchers let them pick!
Cornwall Activity Gift Voucher
Hangloose Eden is the adrenaline centre of Cornwall! Home to 5 amazing outdoor experiences, including zipping over the Eden Project, swinging high on the Giant Swing, Treetop Trekking, Big Air jumping and our Rock Climbing wall. Our experience day vouchers are fit for all ages, just come and have fun!
Are you looking for the perfect experience present? Look no further than our activity vouchers, valid for 12 months, and ready to use whenever they want. Or save with our activity package vouchers, great for the adrenaline and challenge seekers in your life.
We pride ourselves in offering the best experiences in Cornwall, and we make sure that customer experience is our top priority, leaving everyone with a buzz!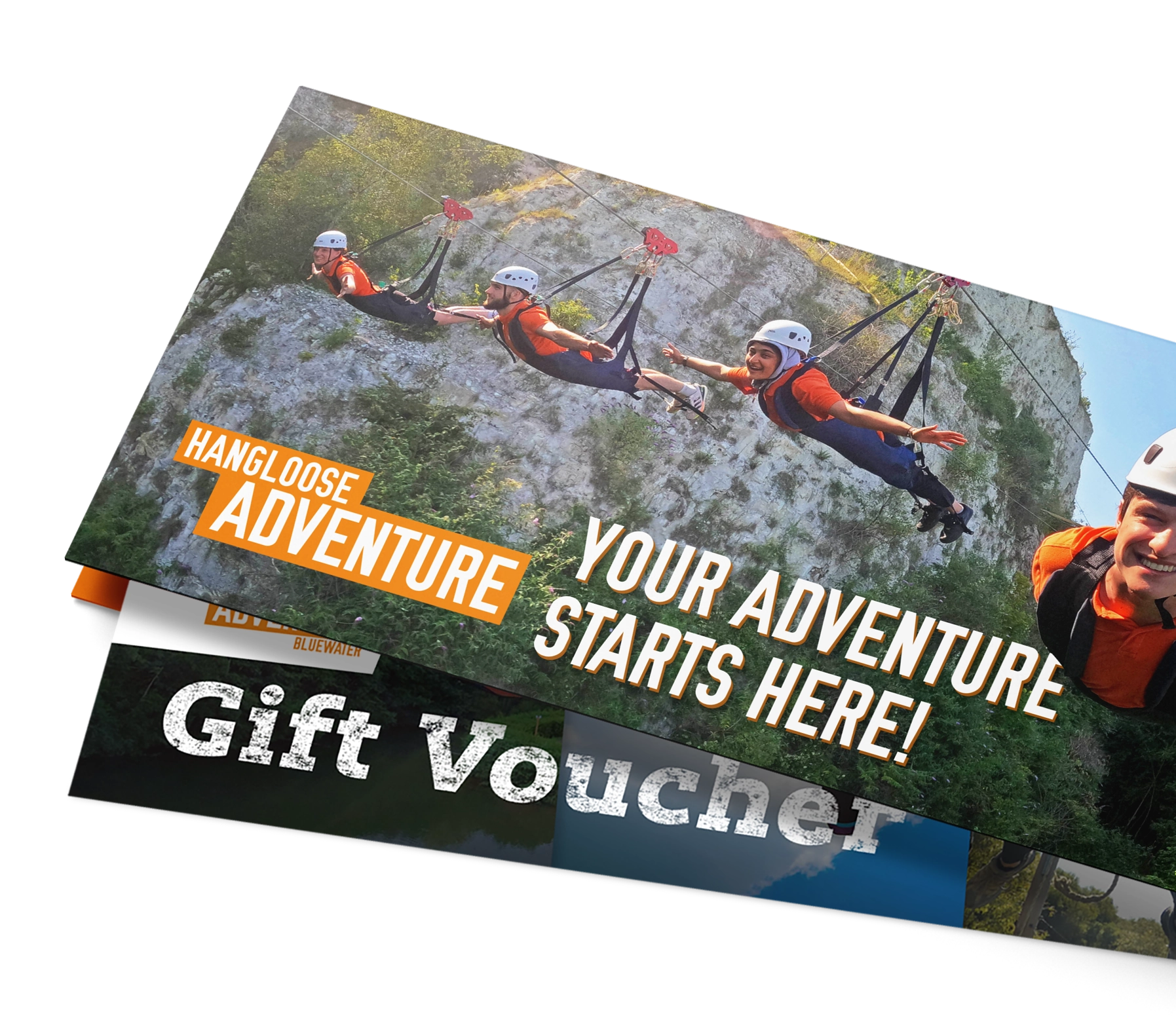 Busy diary? No Problem!
We give you 12 months to plan your adventure!
Add a bit of luxury to your gift!
Select a physical copy of your Gift Voucher at checkout to receive it in our exclusive Gift Voucher Wallet!
Last minute gift shopping?
We can provide a digital copy of your Gift Voucher to help you avoid delivery times!
Reap huge savings with our Cornwall experience packages, mix and match the activities and tailor the experience to the people in your life. Is pure adrenaline needed? Go for the Zipline and Giant Swing to drive their senses into overdrive. Want a laugh and a challenge? Shop the package for 2, including the Aerial Trekking and Big Air.
Planning a day out in Cornwall, then why not go big and shop the 5 activities package, great for groups, families and friends. Family experience vouchers are available.
No discount code needed – we have designed the best money saving packages for you.
Buy them the experience gift voucher they will never forget! Only at Hangloose Eden.
View all
Activity Packages
Skywire, Skytrek
and
Giant Swing
DAY OUT IN CORNWALL? SHOP OUR
There are so many Eden Project activities to explore. Get this! The Eden Project Zip Wire is England's fastest zipline. Do you have it in you to test it out? Shop the eden vouchers to experience it for yourself. 
Whether the activity voucher is for yourself, a friend or a loved one, it will be a Cornwall experience you will never forget. You may just turn into an adrenaline fanatic and come back for more eden project vouchers. 
Shop the experience gift vouchers below!
Speeds of up to 60 mph makes our zipline, England's fastest. Do you have it in you to take on the famous Cornwall zip wire. For once, experience flying like a bird and effortlessly soar through the sky, directly above the beautiful grounds of the Eden Project.
Crave an adrenaline activity in cornwall? The Giant Swing has a freefall of up to 50 mph and a height of over 30 feet in the air. There's nothing like the suspense of getting winched up before the inevitable release and plunge back down to earth.
Big air is an adrenaline Activity Voucher and a half. The thrill of walking up the tower knowing you're jumping off of it is another level. With 3 different platform heights, you choose your comfort level of fun. Great for all ages, the experience gift in Cornwall they won't forget.
Scouting for an adventure in cornwall? Challenge our treetop obstacle course and tree surf through it. Skytrek is a great outdoor activity in Cornwall whether with a friend, a group or your family. Climb through netting, swing on ropes and so much more, feel like a true monkey!
Our climbing wall is suitable for ages up to 14. Making it a great birthday idea in Cornwall for someone you love. Or even just a great day out, with so many challenges and routes there's always laughs to be had. Aspire to have a great cornwall adventure? Shop our family experience vouchers above and mix and match.
Capture all the action with our
Digital Photo + Video Package
Take it from us- you will want to see your reaction after completing the Skywire over Eden Project. Our Digital photo and video packs are a great way to show off and physically harbour your flights!
We know you'll want a physical manifestation of what was otherwise just an online purchase so why not add a little something extra to your stand alone Eden vouchers.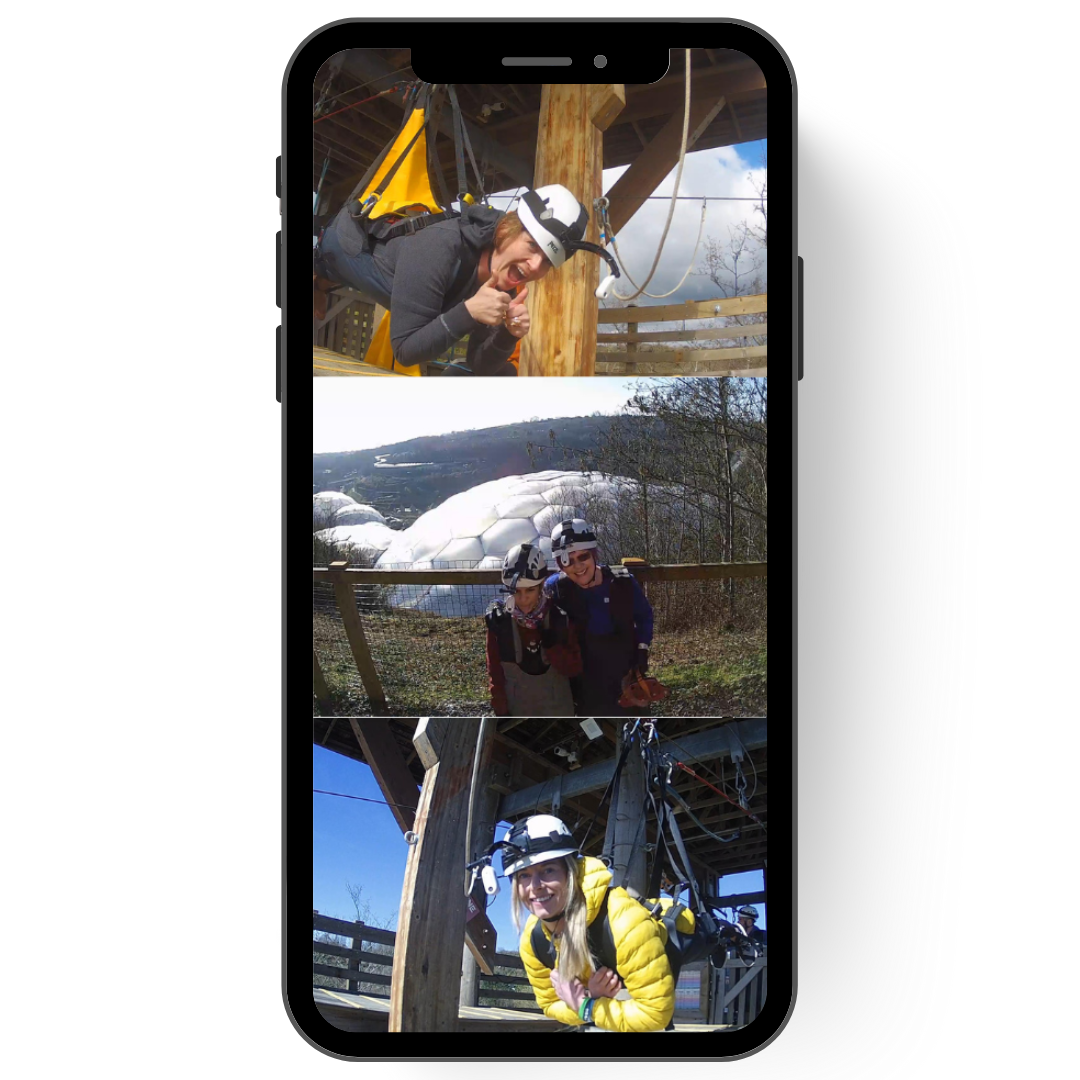 How to redeem your vouchers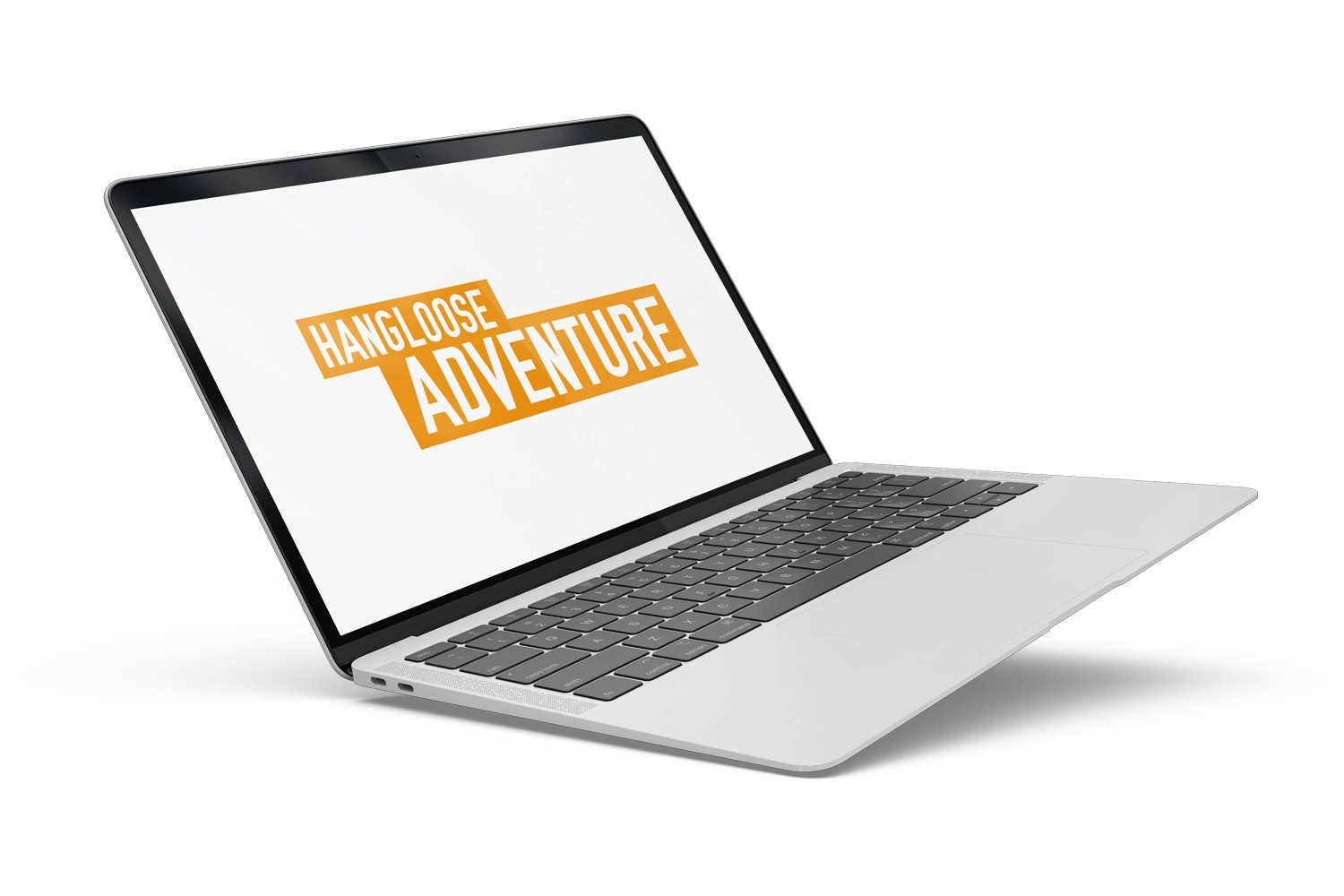 Use our simple online system to redeem your vouchers and begin booking your adventure today!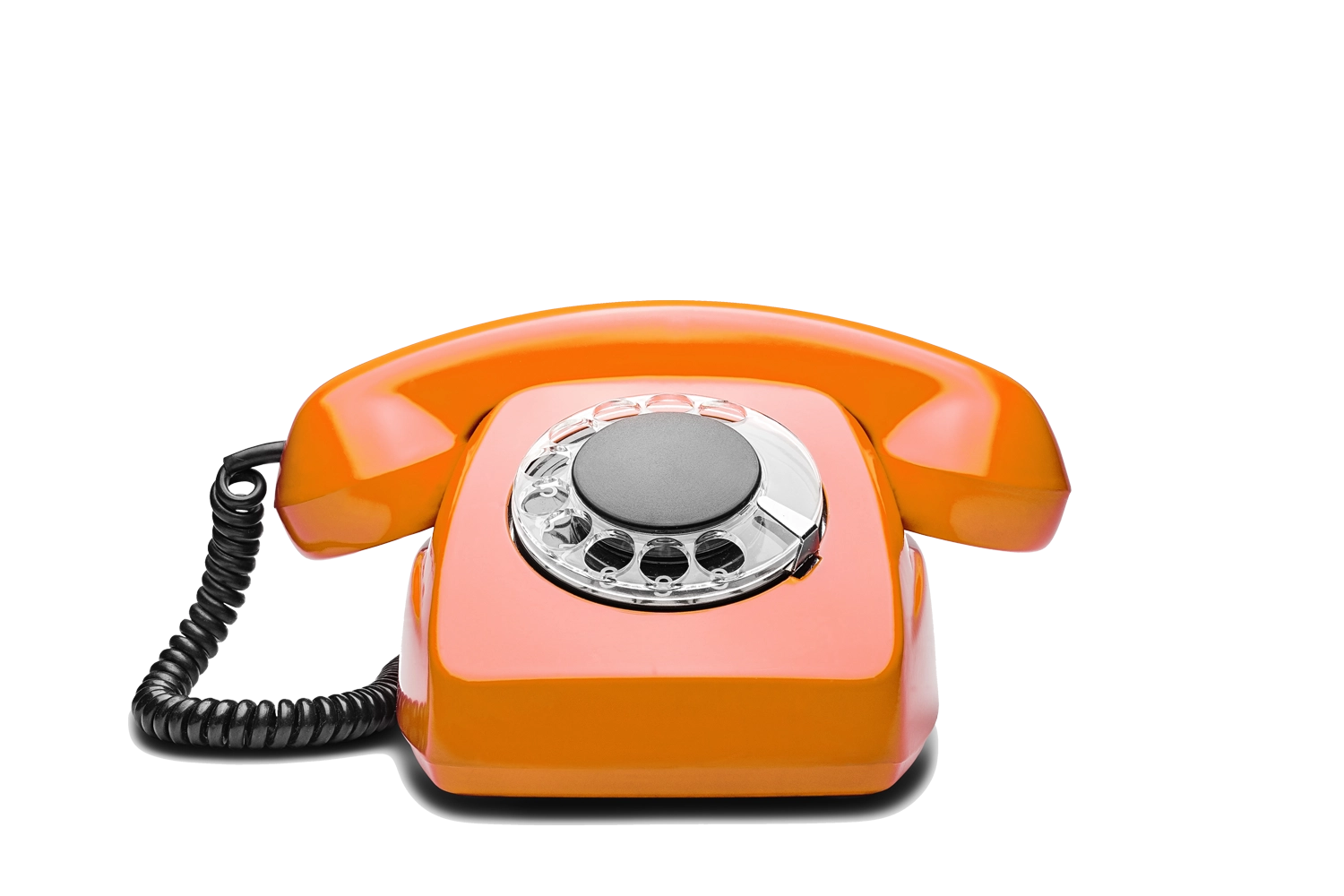 Pick up the phone and give us a call!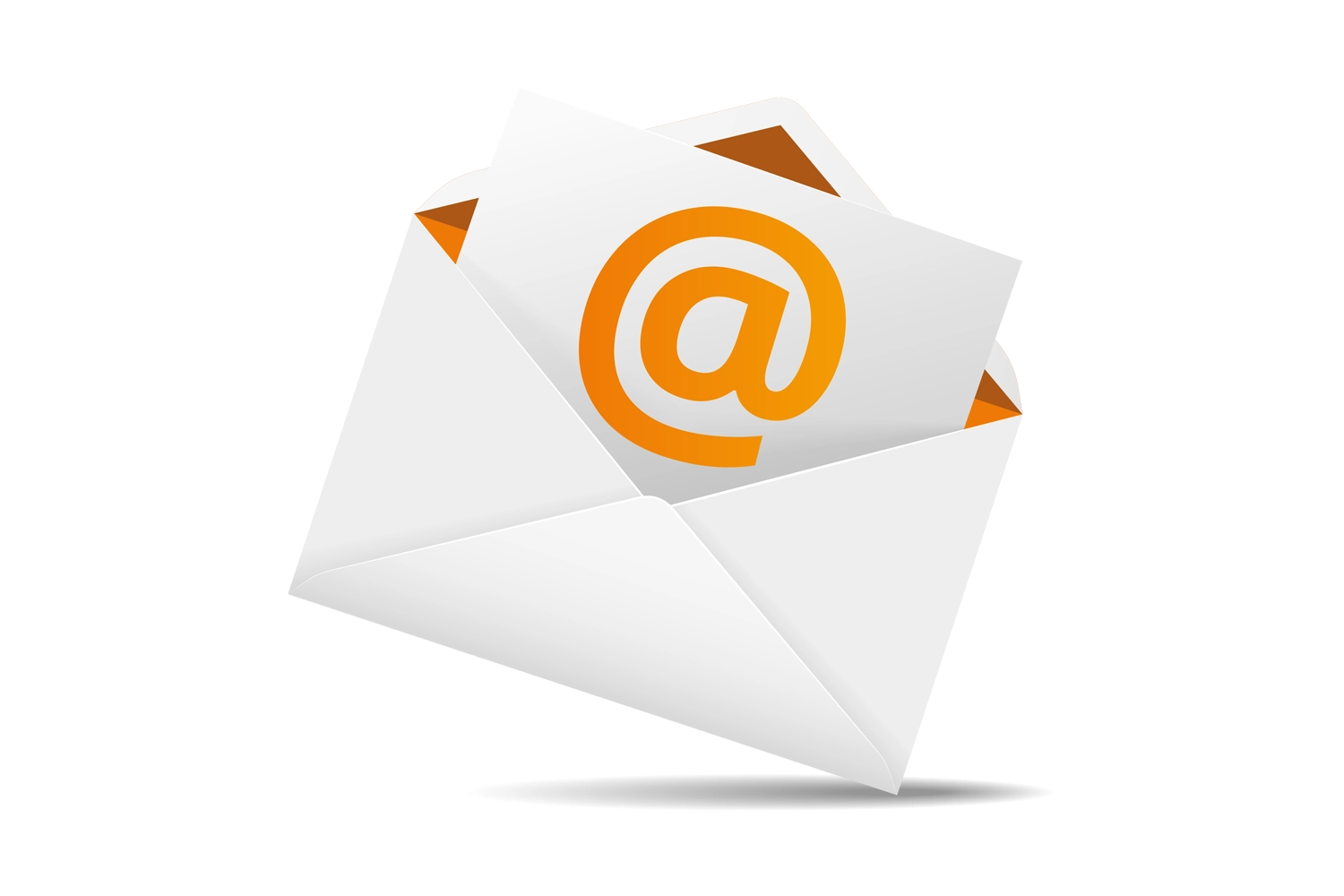 Click the button below to email us, and we'll get in touch ASAP to complete the booking process!
"I cannot recommend this experience enough! We had the full package of the three activities and was not disappointed! The Digital Photo/Video Package is well worth paying the additional £15 extra for as well. I wasn't actually aware Hangloose had the outdoor skydiving machine until we had booked the other activities and I cannot recommend this enough.
The Giant Swing is a must, the adrenaline rush you get at the top and the amount we laughed (and screamed!) whilst on the swing is worth paying for alone! There was no queuing, everything is extremely organised and the staff are super friendly!
Highly recommended alone, with friends or families. I will definitely be returning!"
About Hangloose Adventure Eden
Hangloose Adventure is based in the heart of Cornwall within the beautiful setting of the Eden Project.
Our vision is to be the number one destination for thrill seekers visiting or living in Cornwall.
Our mission is to provide visitors with exhilarating, unforgettable and safe adrenaline activities delivered by a friendly and highly competent team.