Hangloose has a range of experience gift vouchers designed to deliver an adrenaline rush. Our activity vouchers make for the perfect adventure gift, whether it's for friends, family, or a treat for yourself in the future.
Having trouble deciding on the best experience voucher? Opt for a package that includes multiple activities and discounts! Feel the exhilaration as you try our Outdoor Skydive Machine, Giant Swing, Zipwire, and Aerial Trekking course at Bluewater. 
Alternatively Hangloose Eden stands as Cornwall's adrenaline hub! Offering five incredible outdoor experiences, from soaring over the Eden Project on a zip line to reaching new heights on the Giant Swing and more! Our day out gift vouchers cater to all ages – simply come and enjoy the thrill!
With our gift experience vouchers, you can discover your own ultimate thrill-seeking adventure by mixing and matching activities. These voucher experiences ensure an unforgettable and adrenaline-packed experience, making them the ideal outdoorsy gift for that special someone – exclusively at Hangloose.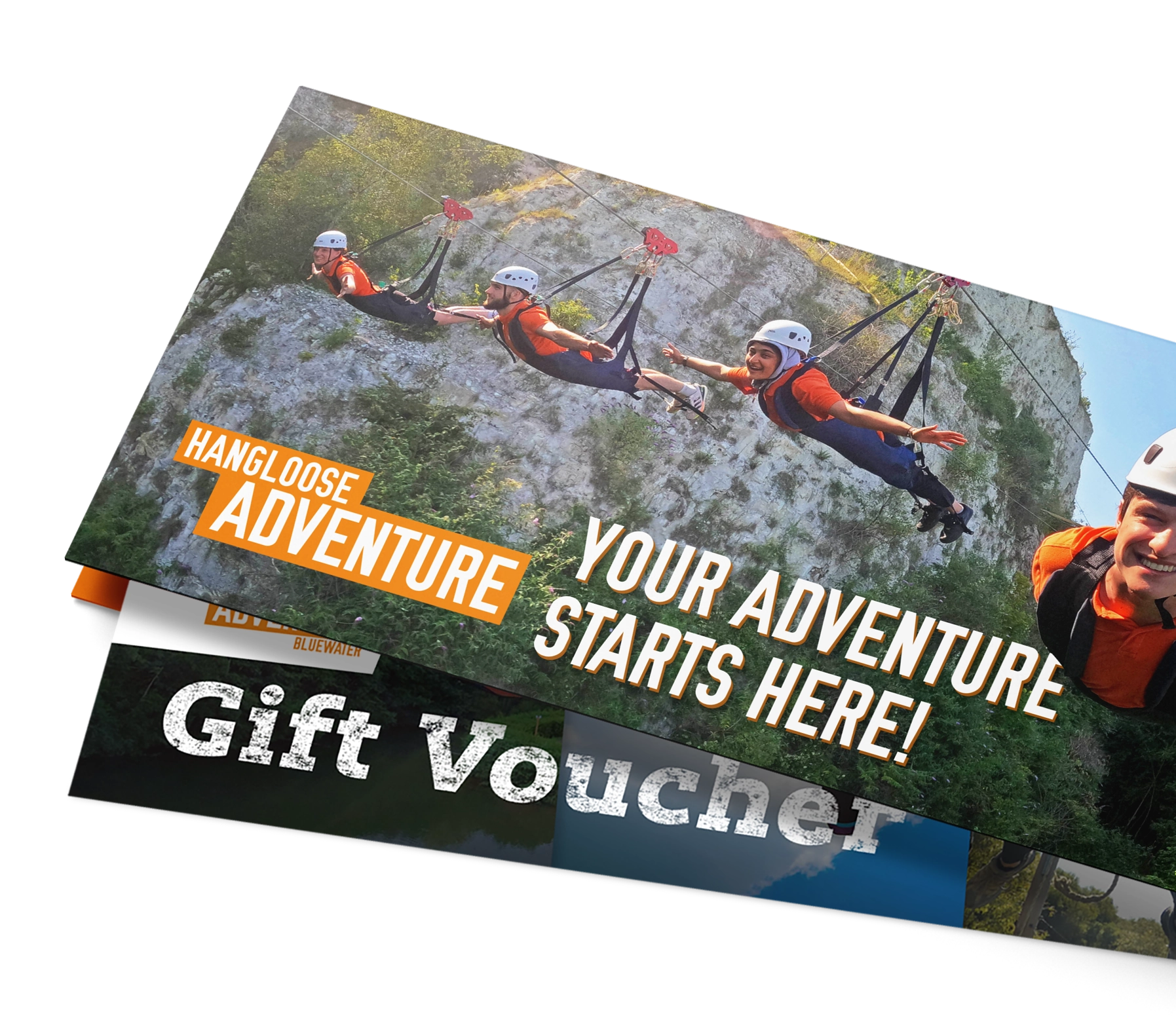 Busy diary? No Problem!
We give you 12 months to plan your adventure!
Add a bit of luxury to your gift!
Select a physical copy of your Gift Voucher at checkout to receive it in our exclusive Gift Voucher Wallet!
Last minute gift shopping?
We can provide a digital copy of your Gift Voucher to help you avoid delivery times!
Need to redeem a Hangloose Voucher?
Redeeming a voucher is a breeze, making it effortlessly simple to turn your thrilling Hangloose voucher into reality.
Ready to use your experience day vouchers?
1. Select "Redeem Voucher" for you dedicated site
2. Select your preferred date and time for your activity
3. Proceed to the checkout
Embark on a day of adventure with our specially crafted vouchers, perfect for the adventure seeker in the family! Elevate your gift-giving game this year by present an unforgettable experience as gifts – a memory everyone will cherish. Hangloose has you covered with our multi-activity packages! Packed with a medley of thrills, we guarantee your day will be full of exciting experiences.
Tailored to accommodate everyone, our outdoor adventure packages offer a myriad of options. Opt for two activities for a few hours of intense fun, or elevate your experience with the ultimate four-activity package for a full-day adventure. 
Double the thrill without breaking the bank by opting for one of our adrenaline-fueled adventure packages. No need for a discount code; savings are automatically applied at checkout. This hassle-free approach gives you more time to concentrate on choosing those exciting experiences.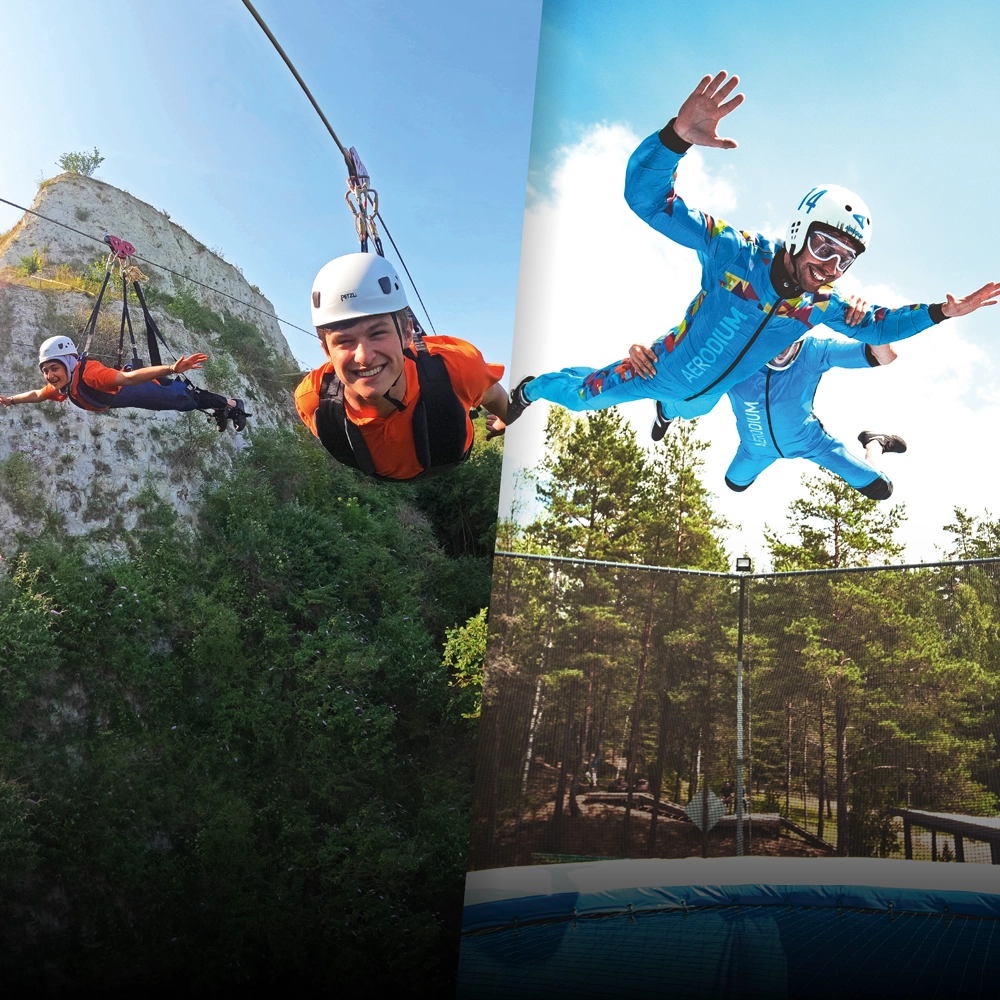 Hangloose Adventure offers a myriad of incredible activities tailor-made for daring adrenaline enthusiasts. Whether the activity voucher is intended for yourself, a friend, or a loved one, rest assured it will be an adventure they'll cherish forever.
Whether you are looking for speed or distance, we've got you covered
Swing into space on our GIANT cliff swings!
Trek above the treetops on our aerial trekking and high ropes course!
As you fly up into the sky, with nothing but nature below and vast blue skies above- it's an experience like no other!
With 12 climbing challenges we make climbing easy, reassuring and more importantly, fun!
BIG AIR will release your inner stunt-double on to an epic airbag drop!
Capture all the action with our
Digital Photo + Video Package
Interested in capturing every exhilarating moment?
Re-live the experience by purchasing our Hangloose media online. Or, wait until you arrive to make up your mind—you'll even receive a special band that identifies you as a proud owner of this one-of-a-kind activity extra!
 Our state-of-the-art headcams are ready to film your wild reactions.