Bluewater Shopping Centre
About Bluewater Shopping Centre
With luxurious shops, eateries and ample recreational activities to explore, Blue Water Shopping Centre stands as the premier destination for one of the best days out in Kent. From its breathtakingly unique architecture nestled within an old chalk quarry – encompassing 240 acres of beautiful parkland with lakeside views and of course Hangloose Adventure Bluewater's thrilling activities!
Bluewater, one of the UK's biggest shopping and leisure destinations located outside London, is a paradise for both shoppers looking to fill their basket with goodies as well as thrill-seekers wanting an outdoor adventure! You will not be stuck when it comes to things to do at Bluewater! Opening its doors in 1999, adventurers have been coming back ever since to take part in all kinds of exciting Bluewater outdoor activities – including
England's longest zipline!
The staff will ensure that your positive experience at Bluewater is top priority here. Their amazing Guest Services team will welcome you with a friendly smile and helpful advice, ensuring that every aspect of your experience exceeds expectations. Experience a truly unique shopping experience at Bluewater Shopping Centre Kent!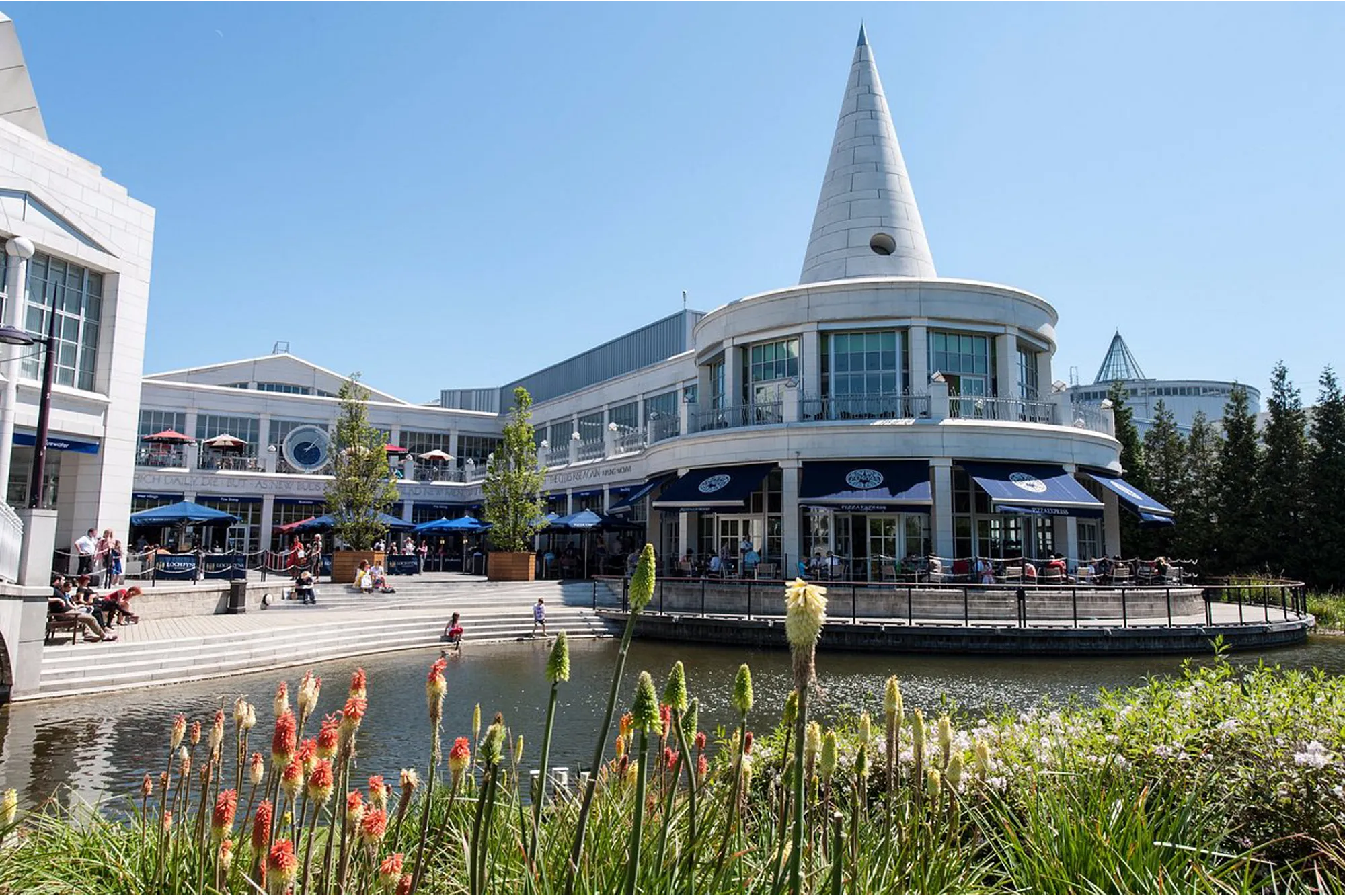 With over 13,000 free parking spaces just waiting to be filled and an abundance of shops at your disposal – Bluewater shopping mall is a prime destination for anyone looking for the perfect piece. From renowned brands like Calvin Klein and Mango, to independent local retailers offering unique pieces with a Kent-ish feel; there's something here for everyone.
It doesn't stop at Bluewater shops with a variety of food outlets offering cuisines from around the world! Start your day off right and fuel up on breakfast at one of Bluewater's many restaurants. If you're in the mood for lunch or dinner, choose amongst options like Italian delicacies, Argentinian steakhouse favourites, classic American barbeque dishes – even French specialities are available to tantalise taste buds.
Bluewater shopping has never been easier. You can view a Bluewater shops list here.
Visit our Bluewater stores – we even had Kim Kardashian tweeting about us!
The design of Bluewater has been carefully considered so it is a total package of fashion, fun and food! It features three luxurious malls scattered with stylish stores guaranteed to meet any shopper's desires. At each corner you'll find a flagship store for the easiest way to navigate around the two storey building!
You can find the core opening hours here.
Things to do at bluewater
This isn't just your average shopping destination; There are so many things to do at Bluewater. Looking for a unique and thrilling experience to really make the most of your day?
Look no further than Bluewater greenithe! Hangloose Adventure awaits you with its outstanding array of Bluewater activities. From England's longest zipline to taking it that extra step further on Europe's biggest Swing- there are plenty of exciting opportunities available when visiting this vibrant spot only next door.
Activities at Bluewater are filled with endless entertainment, from outdoor adventures to cinematic experiences. Discover their magical 17-screen Showcase Cinema de Lux or take a stroll through the Outdoor nature trail and Pirate Cove – perfect for all ages! Get in touch with nature as you share a picnic by the enchanting lakeside; alternatively, rejoice during winter at Bluewater's awe-inspiring Winter Wonderland festivities.
You will have to visit brand websites for up to date Bluewater shops opening times.
Bluewater opening times will vary depending upon activity and seasons can affect this.
Hangloose opening times can be found here.
Bluewater Zipwire – Hangloose Adventure
Feeling like you need an action-packed day? Look no further than Hangloose Bluewater! We have all kinds of thrilling activities, from Bluewater zip wires and swings to skydiving – get your adrenaline pumping in the heart of Kent. Plus, our Aerial Trekking course is coming soon; make sure to join us for a truly unforgettable experience!
With plenty of shopping at the renowned Bluewater, why not enhance your experience by booking one of our amazing activities? With a plethora to choose from and easy online reservations or Bluewater vouchers available, you're just moments away from unforgettable fun!
Please Note: You do not have to pay to get into Bluewater to come to Hangloose Adventure.